A "Sucker Punch" musical number, deleted no more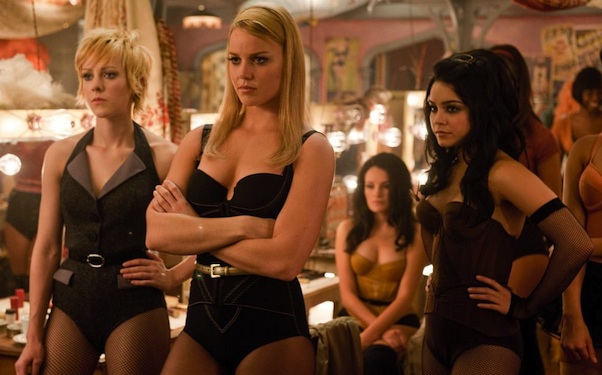 Posted by Matt Singer on
An action kung fu sci-fi thriller musical? Zack Snyder's latest film, "Sucker Punch," certainly sounded like an interesting stew of influences and interests. You don't see too many movies with both samurai robots and show-stopping dance routines. It's a unique combination.
But when "Sucker Punch" finally made it to theaters, the musical sequences were almost totally gone, removed as part of eighteen minutes of footage cut to bring the film down to the PG-13 rating demanded by the studio. But tomorrow, the Extended Cut of "Sucker Punch" comes out on Blu-ray, with all the excised footage back in place. And speaking of the excised footage, here is a look at an aforementioned musical number, back from the dead:
Here's how the film's producer Deborah Snyder described the scene to The Playlist back in March:
"The biggest thing we took out of the film, in the credit sequence we have the [musical montage] of [Roxy Music's] 'Love Is The Drug' (sung by Carla Gugino and Oscar Issac) and that was actually conceived as a glimpse of what life was like in the every day brothel world and the shows they put on. It was actually at the beginning of the movie in its entirety, but we took it out because when we put it in the film it just looked like the place was too much fun and there wasn't enough jeopardy. It was really elaborate and beautiful and in the next sequence Baby Doll [Emily Browning] is crying to get out and [it didn't work tonally]."
There's your reason to remove it from the film, now here's your reason for wanting to see it: "Sucker Punch" was clearly a crazed kooky passion project for Snyder, consolidating all of his loves and obsessions into one messy, wild work. And if you're gonna go the passion project route, you have to go all out. Don't hold back when you're making your deranged love letter to pop culture; give us the whole derangement. Who cares if it's tonally wobbly, and all the narrative pieces don't fit together? That's the point of the passion project and the old kamikaze auteurism: throw yourself up there in all your complexity and confusion and let us sort through it. Dense is good, man.
That's why I've been waiting to see "Sucker Punch" in this director's cut. Now DVD stores can file the movie the way Zack Snyder always intended: in the "Samurai Robot Musicals" section.