Statham! Owen! De Niro! Owen's mustache! It's the "Killer Elite" trailer!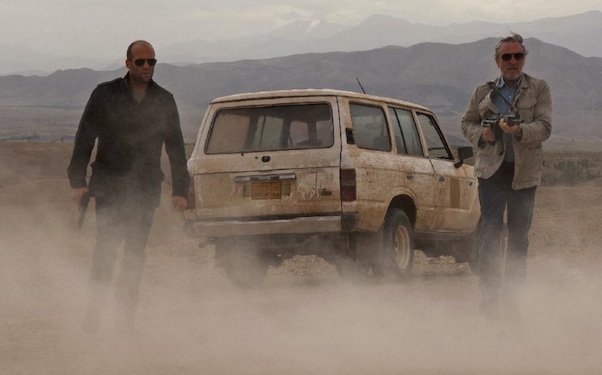 Posted by Matt Singer on
We've already told you a little bit about "KIller Elite," the debut release from new distributor Open Road Films. The cast list alone is exciting: Jason Statham, Clive Owen, Dominic Purcell, Adewale Akinnuoye-Agbaje, and Robert De Niro. But last night, Yahoo! Movies debuted the film's first trailer, and gave us lots more reasons to be excited. Take a look:
In the film, Statham plays a retired member of the the Elite Special Air Service searching for a way to save his oh who the hell am I kidding pretending this film is about the story? It's about Statham using a chair as a weapon while he's sitting in it. It's about Statham leaping out of a window while he's still tied to that damn chair. It's about Clive Owen with the porniest porn mustache since John Holmes. It's about Robert De Niro being all like "I don't care if I was in 'Meet the Fockers,' did you see 'Taxi Driver?' I will shoot you in the face!" It's about all the actors in the trailer — and it's all actors, because there are no actresses — getting credited by last name only because real men don't need first names.
Now I imagine some might find the music in this trailer, Scorpions' "Rock You Like a Hurricane," a little cheesy. Here's why it's perfect: "Killer Elite" is obviously a welcome throwback to crazy 80s action, when men were men, women were Rae Dawn Chong, and villains had mustaches and accents. "Rock You Like a Hurricane" was the soundtrack of that dumb, glorious era. It's the only reasonable choice.
"Killer Elite" opens September 23. I'm already calling it: Best Movie of 2011.
Are you as excited as Matt is about "Killer Elite?" Okay, obviously you're not — no one is as excited about "Killer Elite" as Matt is. But we want to hear what you think anyway. Tell us in the comments below or on Facebook and Twitter!