The new "Spy Kids" sequel will literally stink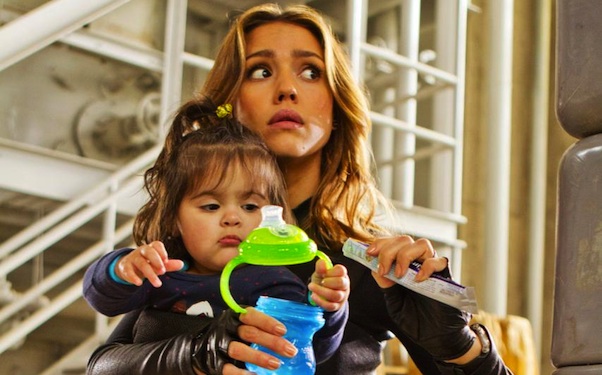 Posted by Matt Singer on
See I always thought the fourth dimension was this theoretical concept of space and time that existed outside our own. Apparently, it's just smelliness.
Indie auteur Robert Rodriguez has a new "Spy Kids" coming out this summer, the fourth in the franchise, and it's being released in what he's calling "4D with Aromascope." But just what is 4D with Aromascope? I will let the press release explain that part.
"This innovative and celebrated franchise will now be the first to introduce audiences to the new adventure of 4D where they will have 8 special opportunities throughout the movie to access the action interactively through smell. The introduction of scent in the movie going experience adds to the outrageous fun by enhancing the action, adventure and comedy to take you where no film has gone before.

With each individual admission ticket, kids and parents will also receive an Aromascope card that is free of charge with easy to read numbers outlined. As the numbers flash on the movie screen the audience will rub the corresponding number on their card. When each of the 8 aromas are unleashed you will get to experience a special moment in the film and be transported into scenes in the family adventure film. This fun added attraction takes the audience beyond sight and sound and into a symphony of scents as the movie is coming to life."
In other words, 4D is razzle dazzle talk for scratch and sniff. The "take you where no film has gone before" part might be a little hyperbolic too. Though rare, smelly movies — as opposed to movies that just stink — have existed for decades. The infamous "Scent of Mystery" was released in "Smell-O-Vision" all the way back in 1960. That was way more complicated too. In Smell-O-Vision there were no cards; special theaters were outfitted with air filtration systems designed to blow 30 different scents at customers at specific points in the film. Unfortunately, according to this Wikipedia excerpt, Smell-O-Vision didn't quite pass the smell test:
"The mechanism did not work properly. According to Variety, aromas were released with a distracting hissing noise and audience members in the balcony complained that the scents reached them several seconds after the action was shown on the screen. In other parts of the theater, the odors were too faint, causing audience members to sniff loudly in an attempt to catch the scent."
John Waters famously released his 1981 film "Polyester" in the glory of "Odorama" — i.e., scratch and sniff cards. Of course, befitting Waters' demented sense of humor, several of the smells on the Odorama card (ten in all compared with "Spy Kids"' eight) were awful, including one that reeked like shit. Waters even recreated the Odorama gimmick for the "Polyester" DVD, which includes a scratch and sniff card too. It's a fabulously crazy movie; if you've never seen it, check it out.
But back to "Spy Kids." The film marks the return of Robert Rodriguez's most famous franchise after an eight year hiatus. The last "Spy Kids," 2003's "Game Over," was one of the first entries in the latest wave of 3D movies. And Rodriguez has consistently proven himself an early adopter of new filmmaking technology. He was one of the first guys in the pool on 3D, HD cameras, and entirely green screened sets. His ability to predict cinematic trends is one of his greatest skills as a director. I am curious to see whether he's ahead of a curve here, or whether he's simply a curve unto himself designed to separate his film from a market glutted with 3D movies that audiences are starting to tire of.
We'll see. I like Rodriguez and his work. I hope "Spy Kids: All the Time in the World" is a breath of fresh air in movie theaters on August 19.
Are you a fan of Odoroma, Aromascope, and the rest of their Smell-O-Vision ilk? Tell us in the comments below or on Facebook and Twitter!