You Must Obey Shepard Fairey's "They Live" Poster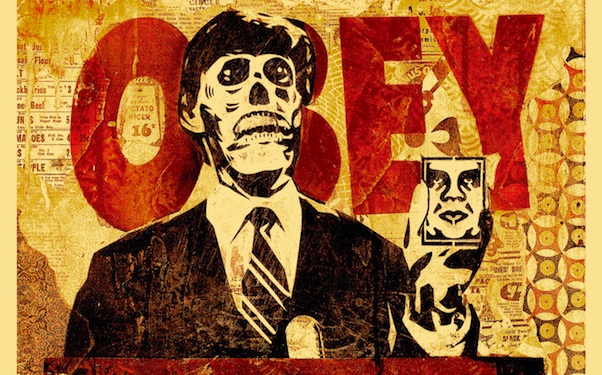 Posted by Matt Singer on
Another week, another stunning poster from the folks at Mondo. They might have outdone themselves this time; they've partnered with street artist and graphic designer Shepard Fairey — he of the Barack Obama "Hope" poster and all sorts of amazing graffiti seen on buildings around the world and in the epic documentary "Exit Through the Gift Shop." — for a new poster of the classic film that helped inspire his aesthetic. John Carpenter's "They Live" is one of the wackiest, boldest, and coolest movies of the 1980s: a stinging rebuke of Reagan-era consumerism and an over-the-top action movie starring wrestler "Rowdy" Roddy Piper. In the film, Piper's character finds a pair of sunglasses that enable him to see the subliminal messages buried in marketing and advertising, along with the evil aliens disguised as humans who are controlling our minds with them. The subliminal messages say things like "NO INDEPENDENT THOUGHT" and "OBEY" which became the lynchpin of Fairey's own street art style.
"They Live" already gave us one of the greatest (or at least longest) fight scenes in movie history. Now it's given us an absolutely stunning poster (and the original theatrical poster wasn't too shabby either). Check it out:
Fairey's "They Live" is limited to 500 pieces and costs $50. If you want one you'll need to a) follow @MondoNews on Twitter to get the official link tomorrow when the poster goes on sale and b) go find the nearest crossroads and wait for Satan to arrive, and then make a deal with him to ensure you actually get a copy. Good luck.
Own any of these exclusive Mondo posters? Which ones? Tell us in the comments below or on Twitter and Facebook!