Car wash expert critiques sexy movie car washes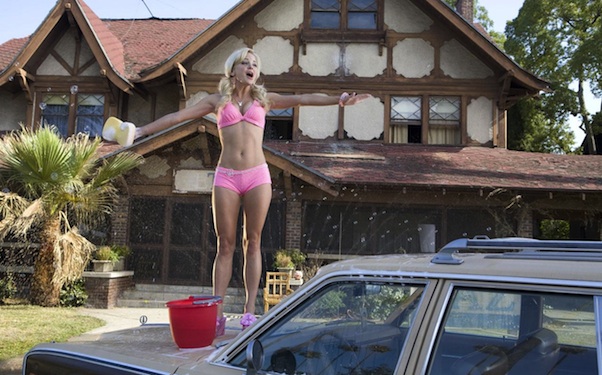 Posted by Matt Singer on
Recommended reading from Vulture this morning. They've assembled a video slideshow of sexy movie car washes — you know the ones, where pretty young starlets tousle their hair, spray water on their chests, and lean over things suggestively in the hopes of earning thousands of dollars for their cheerleading squad or sorority (see "The House Bunny," above) — and presented them for comment from Debra Gorgos, editor of Professional Carwashing & Detailing Magazine, or, as we know it in the car service industry, PC&D. Love the PC&D.
Gorgos plays her part with perfect dry humor. Here's her response to Liv Tyler, lost in soapy ecstasy in this sexy car wash scene from "One Night at McCool's:"
"It's a good idea to keep car-wash soap off your skin… I can't even imagine what would it be like getting in your eye." Of course, Tyler probably didn't have to worry about any of that. Thanks to her expert eye, Gorgos says she can tell that it's dish soap used in the scene, which isn't really dangerous at all.
On behalf of men everywhere, let me just say that that is exactly what I think every time I watch Liv Tyler improperly clean that sexy mid-90s sedan on YouTube. Did I say every time? I meant just now, when I watched it for the first and only time I will ever watch it. Look, see? I just deleted the bookmark that I accidentally put on there. That was an accident, yes. Now if you'll excuse me, I'll just go back to reading my PC&D. You go watch the entire slideshow.
Have you ever in your life ever seen anyone clean a car like Liv Tyler? Did they get injured? Tell us about it in the comments below or on Facebook and Twitter!