Reagan, Spielberg, "E.T." And Real Aliens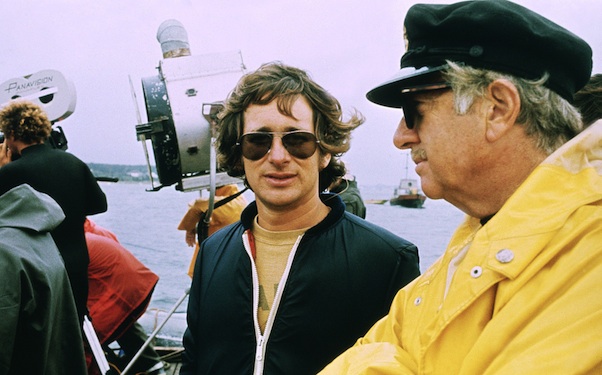 Posted by Matt Singer on
It's a Spielbergy day here on IFC.com. We already had Stephen Saito's fascinating post about the director's forgotten CD-ROM video game, "Director's Chair." Now I've got a great Steven Spielberg story too. Towards the end of their "36th anniversary" "Jaws" interview for Ain't It Cool News, Eric "Quint" Vespe asks Spielberg to verify a story he's heard through the grapevine. In the version Vespe heard, President Ronald Reagan held a screening of "E.T" at the White House. After it was over, Reagan "started talking about how close to reality it was and he was quickly ushered out of the room."
Great story, if it were true. According to Spielberg, it's not quite what happened, but it's actually pretty close. Here's his version. Take note, dinner party conversationalists:
"He wasn't ushered out of the room. He was the President of the United States! Nobody could usher Ronald Reagan out of the room! It was in the White House screening room and Reagan got up to thank me for bringing the film to show the President, the First Lady and all of their guests… He just stood up and he looked around the room, almost like he was doing a headcount, and he said, 'I wanted to thank you for bringing 'E.T.' to the White House. We really enjoyed your movie,' and then he looked around the room and said, 'And there are a number of people in this room who know that everything on that screen is absolutely true.' And he said it without smiling!"
Spielberg also shares the one critique The President had of the movie (the end credits were so much longer than on Reagan's films — say it in an old coot voice and add "Back in my day!" and it instantly becomes hilarious. Go on. Try it). He also insists that Reagan was joking when he said that the movie was very close to reality, possibly because as a producer of the "Men in Black" series, he knows what happens to people in this country when they claim inside information about the existence of aliens.
Make sure you read the full interview — and it is a full interview — for lots more stories from the making of "Jaws" plus Spielberg's declaration that he won't digitally correct or enhance anymore of his movies going forward. That part did make me happy. By the way Spielbergy would make a great name for a salad, wouldn't it? "I'll have the Spielbergy Salad, only can get I the purple colored dressing on the side?"
Do you think the President was joking? Tell us in the comments below or on Twitter and Facebook!