Play as Robin in "Batman: Arkham City"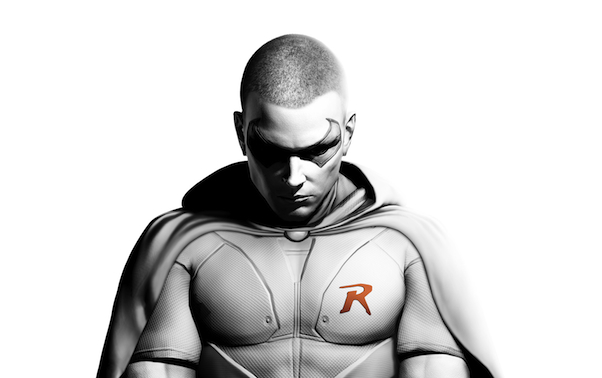 Posted by Evan Narcisse on
One of the most annoying trends in video game marketing has to be the pre-order bonus. To gin up interest and stave off digital distributors like Steam, special content available only through certain retailers has been dangled in front of gamers for years now. This hucksterism usually takes the appearance of "Pre-order 'Shooter X' from 'Game Retailer Y' and get 'Awesome Gun Z!' Customers who plunk down $5 on a pre-order are more likely to commit to getting the game, and they'll get an extra piece of in-game flair for their early loyalty. Apparently, publishers have either been offering exclusive pre-order content to retailers or the stores have been demanding it as an implicit guarantee for shelf space. It's generally a practice lots of gamers view skeptically, especially since the exclusive content tends to show up in future editions of said games.
But the appearance of the Boy Wonder in "Batman: Arkham City" will be the one instance where my pre-order-phobic self caves and reserves the game. Consumers will only be able to get the Robin pack by pre-ordering at electronics retailer Best Buy. From the Warner Bros Interactive Entertainment press release:
Robin will come complete with his own unique gadgets and special moves, and will be playable in all challenge maps in the game, as well as two additional challenge maps that are included with the pack – Black Mask Hideout and Freight Train Escape. The pack will also contain a bonus Red Robin character skin.
The above seems to mean that Robin won't be playable in the main campaign portion of the game, unlike Catwoman who'll be helping out Batman in his quest to shut down Arkham City. This version of Robin will be the modern-day iteration, a young man named Tim Drake who's the third guy to wear the red vest. In recent years, he's become Red Robin, a slightly older, tougher superhero and Bruce Wayne's long-lost son Damien has since become Robin.
Rumors have been flying that Dick Grayson would be showing up in the game, too. Grayson, of course, was the original Robin until he left the shadow of the Bat and assumed the new heroic identity of Nightwing. For all we know, he'll be available as part of another pre-order boondoggle.
So, Bat-fans, is the ability to play as Robin enough to get you to pre-order "Batman: Arkham City"? What other Gotham City characters do you want to see in the game? Let us know in the comments below or on Facebook or Twitter.