Exclusive World Premiere: Portugal. The Man's "Sleep Forever"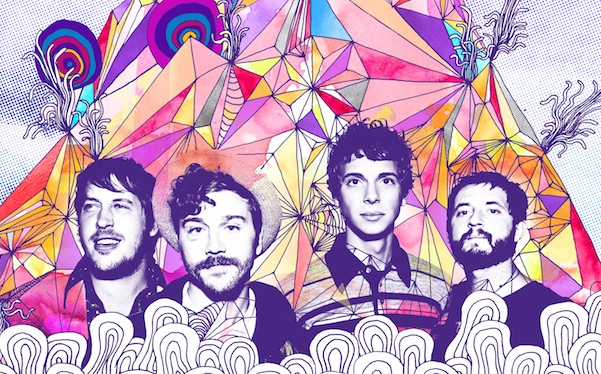 Posted by Grayson Currin on
Portugal. The Man frontman John Gourley doesn't remember much about last night: All he knows for certain is that his art-rock band from Wasila, Alaska, had fun watching the NBA Finals in a bar in Portland, Maine. He thought everything was fine until everyone woke up this morning, bruised and battered covered in blood. Apparently, there was a fist fight, but Gourley doesn't know anything about it. Still, as tough as that might have been, it pales in comparison to the role Gourley plays in Sleep Forever, the new two-song music video from the band's forthcoming Atlantic Records debut, In The Mountain In the Cloud. Here, Gourley stars as a dogsled musher racing through the Alaskan wilderness; things get even more interesting when his dogs disappear.
We talked to Gourley about growing up in Alaska and In The Mountain In the Cloud.
Tell me about the genesis of the idea for this video? How did you decide you'd be a dog musher who died doing the job?
Along the lines of everything we do, we're constantly just throwing out ideas, and then every now and then, somebody grabs on to one and says, "You have to do this." We scramble and try to actually make it happen. Mike and I had been talking about doing this video where I would get lost. The dogsled thing was an easy setup for the video. My parents are dogsled mushers. My dad ran the Iditarod five or six times. He was one of the judges on the Iditarod. Mom and Dad ran together and also did the Yukon Quest. I was raised around these dogs and dog mushing. That was the easy part. Somewhere in talking about this, we wanted to have this crazy trapper involved in the video, because Alaska really is that place. I remember riding my bike or four-wheeler or walking out into the woods, and you'll find these undeveloped subdivisions with a house built out of palettes and green house material, randomly in a lot. You don't know if they own the lot or if they're just there. There are a lot of places like that of people just out in the woods. It's one of my favorite parts of Alaska, and also one of the most terrifying when you're a little kid–walking through the woods and stumbling upon it. We wanted to write that story and not actually have this hunter come after me but obviously fall and shoot myself.
Have you ever encountered a dangerous Alaskan situation like that?
There are all these crazy pits or air pockets that happen beneath the snow when the snow gets very deep. We were talking about me running through this field and falling in this pocket and killing myself. Growing up, we lived outside of Denali National Park; at one point, I was walking through these snowdrifts, and I stepped on top of a fairly tall spruce tree and fell down between all the branches. I ended up in this air pocket, deep in snow. I couldn't even stick my hands out of it. All those different experiences growing up brought around a lot of the videos. A lot of the stuff was actually loaned to us from a trapper and a hunter–one of our family friends. was going back to all my childhood experiences.
I was really glad we got to bring Mike Ragen up to do it. He has an amazing eye. We talked about doing these really big shots. That's what Alaska is: You look around, and it's mountains as far as you can see, mountains of trees. Everything is bigger than you. You're just a speck out there. All the shots were behind the house I grew up in and the house I currently live in. It was really easy for us to do because we had the space to do it. My dad helped out with the dogs.
How did you get out of that pit?
I just tunneled out. I was a little kid, and little kids do not stress those situations. As an adult, I'd probably freak out for a second; as a kid, it was awesome. I just fell into a room. There was naked earth beneath the tree, and I was in this spot that I wouldn't see for four months before everything thawed. We'll probably use a more in-depth view of something like that at some point.
The band's from Alaska, but for a lot of reasons, most Americans will likely never visit the state. Are these videos a chance to show your fans where you're from?
Definitely. There are all these shows on TV right now showing Alaska life. Some of them are pretty on-point. Things like Alaska State Troopers and Flying Wild Alaska, that's really Alaska. I think it's great for people to see that in a more artistic way, which is again why we brought up Mike to do it. He has a great talent for taking it all in and showing what it is to be there. That's literally my backyard; that's what it looks like. It was so much fun to be out there.
The most fucked-up thing about it was the fact that, before going out there, we'd decided the character wasn't going to wear a hat in this video. I go with it because I'm an Alaskan, and that's just what we do. We go out, and it was between 25 below and 50 below the last day we shot. It's 50 below zero, and there are some serious moments of desperation in my face. At one point, it's the least flattering shot of the whole video–just ice in my hair, ice on my eyelashes.
I actually stopped going out on dogsled rides with my dad. This one amazing day, we were in Denali out on the tundra. There was a herd of caribou out there. But we were out there for so long and my hat kept going back, so I frosted my ears. It was so frosted that I couldn't feel them, and in not feeling them, I tried to warm them up. I bent them and actually bent the cartilage. My ears were frozen all crooked. It was the worst feeling. I had these huge blisters and really swollen ears. I have a lot of respect for people who did things like my dad did–going out and running the Iditarod. People lose toes on the Iditarod. It gets black and frozen. There's just a more intense and real side to Alaska that we want to show a bit of in the video, and it was at my expense with the ice and the wind.
Is this video based on family lore? Is there a story of someone dying this way that this is based on?
It's something I've always been terrified of. There are stories of dogs getting stolen or getting killed. Dogs just get off the line and take off, and you get stuck. It happened to my dad back home. Sometimes the dogs will take a turn funny and send you into a tree, bust up the sled and take off. My dad's dogs will go back home, but a lot of times, you find that, if teams get loose, they'll get tangled up and fight or run into a moose. They get trampled. There are a lot of things that can happen out there, but the dogs do love it. It's what they live for. It's amazing to watch them communicate and how they handle things. But things definitely do happen up there.
But me killing myself… Well, a lot of the time, we do things just because we want to see how they would look. It just fit into the story really well. He doesn't actually get murdered. Once you're out there, you're running in every direction. You get stuck in whiteout situations, and people do die that way.
Why did you decide to use these songs–"Sleep Forever" and "Got It All (This Can't Be Living Now)"–to score the video?
We used to listen to a lot of Beatles and Bowie and oldies radio stuff. When we sat down to record this album, we wanted to bring in a lot of those reference points. I wanted to write a song that was more like the record we recorded three years ago, Censored Colors. There are a few callbacks lyrically, and that whole song, "Sleep Forever," was about family and growing up in Alaska. With that song referencing so much of that, it fit really well. It works really well with the landscapes and the big shots. It was a background to everything, and we needed that lift toward the end with "Got It All." That was more about lifting it back out and saying that we really do have it all out there.
You mentioned the television shows that have become representations of Alaska for people outside of the state. Being from Wasila, how do you view Sarah Palin's show?
It is what it is. It's a show. It's entertaining. My parents will watch it and think it's totally funny. As far as Alaska goes, I don't know. A lot of Alaskans are conservative no matter what. I'm not a true Alaskan. I grew up there, lived my whole life there, went to school with two other kids in my grade and the whole school in one two-room schoolhouse. That's not even real Alaska. That's just our family being there and living. I mean, people do that in Montana. Alaskan cities are still cities, and people live within those cities. I live in a different circle than the Palins, so I can't really relate. But it is totally entertaining, and that's what it's all about, right?