Elite Game Nerds Team Up for Original Animated Project at Paramount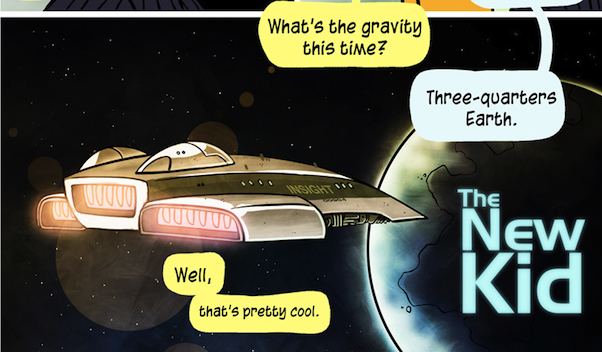 Posted by Evan Narcisse on
You'd have to be living under a rock to not notice that geek culture's in its ascendancy. Superhero movies have become the new summer blockbuster staple, genre paradigms are engulfing television and literature and, as an industry, video games have out-earned feature films for years now.
Yet, there's a special breed of nerd success that exceeds the box office triumph of "Thor" or the mere existence of "Batman: Arkham City." That victory comes when you somehow inherently know that geek talent reaches the mainstream without losing essential elements of their DNA. "Scott Pilgrim Vs. the World," while not a commercial success, shone brightly as a smart, attuned work of pop culture. The pairing of Edgar Wright with Bryan Lee O'Malley's material created sparks and "SPvTW" will be a cult hit for years to come, adored for the respect it shows for its own integrity.
You could argue that "Penny Arcade" 's the same kind of production. Jerry Holkins and Mike Krahulik's webcomic about two game-obsessed friends has grown into a cottage industry that includes bi-coastal fan expos, an online TV series and their own video games. The publishing industry came to them to collect the strip that's been going for more than 12 years and the results have benefitted both parties. Gary Whitta's made-good story isn't quite as huge, but it follows a similar arc. Whitta started off as a games journalist, eventually becoming editor of PC Gamer magazine. He's done consulting work on various high profile games, including "Gears of War," and has written comics and screenplays, too. His big splash came with the release of "The Book of Eli," which delivered a clever, stylish post-apocalypse that bore a surprising amount of heart for an action flick.
So, news that Holkins, Krahulic and Whitta are collaborating on an CGI animated project for Paramount is almost like a perfect storm of nerd potential. Per the Hollywood Reporter, the trio will be working on "New Kid," about a youngster adjusting to relocation to an extraterrestrial school where he's the only human. Penny Arcade strips often go for the inside video game joke or the douchebag belly laugh, but they're also capable of hitting unexpected moments of emotional poignancy in their work. Hopefully, they'll be able to bring their visual stamp and sense of geek affect to bear on a film that's going through the Hollywood studio system. Whitta brings along the same kind of nerd bonfides, beefed up with the clout of an actual successful feature. As you can see in the strip that inspired the deal, "The New Kid"'s a springboard that can go any number of places, from ribald comedy to space epic to family drama. Here's hoping that Whitta, Krahulic and Holkins get to take the project to whatever universe they want to.
Are you excited for "New Kid" as a feature film or worried about its journey through Hollywood? Let us know in the comments below or on Facebook or Twitter.