Paul Thomas Anderson's "The Master" Hits The Water In New Set Photos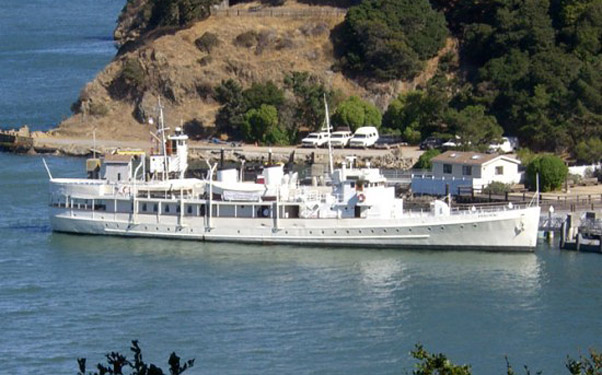 Posted by Brian Jacks on
Ever since Paul Thomas Anderson started talking about his next movie "The Master," the project has been shrouded in controversy. But after a number of setbacks, the movie is now moving steadily ahead as evidenced by new photos from the film's Mare Island, California set.
As early as 2009 came news that Anderson, famed helmer of "Boogie Nights," "Magnolia" and "There Will Be Blood," was working on a script about a World War II vet who founded a new religion. Red flags were raised almost instantly because of perceived similarities between the film's fake religion, The Cause, and Scientology. The controversy was further heightened by the fact that the The Cause's founder, Lancaster Dodd, was meant to be played by frequent Anderson collaborator Philip Seymour Hoffman, who bears at least a slight resemblance to L. Ron Hubbard, noted science fiction author and founder of Scientology.
Though the film was originally set up through Universal, things fell through ostensibly due to problems over the script, though it's rumored that high-powered Hollywood Scientologists (of which there are apparently billions), nixed the project before it could get off the ground. Luckily for Anderson fans and Scientology foes, however, Megan Ellison stepped in with some of her dad's Oracle money to finance the film via her Annapurna Pictures banner (as well as Anderson's adaptation of Thomas Pynchon's "Inherent Vice").
Now, courtesy of Vallejo Community Issues Examiner Patricia Kutza comes our first look at several of the movie's sets. Filmed on Mare Island off the coast of northern California, the production is making use of both a local mansion as well as the USS Potamac, a former presidential yacht that is docked on the island. While the photos don't show off any of the cast of "The Master" – which includes Hoffman, Joaquin Phoenix, Amy Adams, Laura Dern and others – Mare Island locals Dana and Patrick Vandeweg did manage to spot production workers moving equipment onto the set.
Keep your eyes peeled for more news from the production, assuming the so-called Scientology conspiracy doesn't do something to the cast and crew's thetan levels.
Are you counting down the days until "The Master" arrives in theaters? Chime in below or on Facebook or Twitter.