"Page One: Inside The New York Times," Reviewed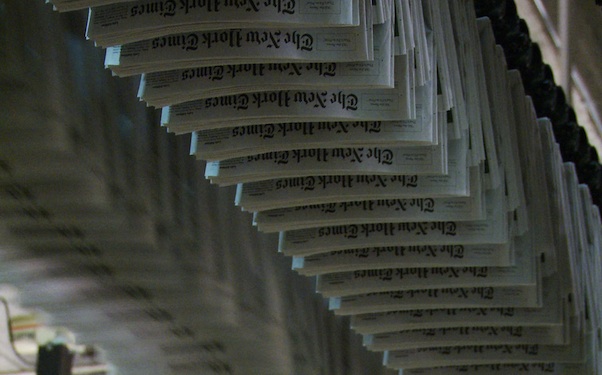 Posted by Matt Singer on
I don't know if it's a rule or just a cliche, but it feels like every movie about newspapers begins with a scene in the printing presses. I get it: they're visually interesting, they're something we never get to see anywhere but the movies, and they represent the end of the process that we're about to watch unfold. And sure enough, the documentary "Page One: Inside The New York Times" starts with a printing press montage. Not an original choice, but a particularly appropriate one in this movie, since the process that's ending in this case is not just another issue of a newspaper, but perhaps the entire system of gathering and reporting news that has been in place for over a hundred years.
Whether he originally intended to or not, director Andrew Rossi, who was granted unprecedented access to the Times newsroom for an entire year, wound up with a documentary that is less "inside the Times" than "The Times inside the modern media landscape." You won't see how the paper covers sports or local government or, for that matter, how their film desk works. Though we meet a few reporters and editors from around the company and we get to sit in on a couple pitch meetings for the paper's front page, Rossi primarily looks at the Times through the prism of its own media desk, which is edited by Bruce Headlam and staffed by smart, dedicated journalists like David Carr and Brian Stelter. The stories they report all connect in some way to one of the seismic shifts currently rocking the news industry. WikiLeaks and their release of classified combat videos leads into a discussion about the line between journalist and activist, and the role the Times plays in a world where almost every citizen has access to incredibly powerful communication tools. NBC Universal and Comcast's merger introduces questions about media consolidation. The bankruptcy of the Tribune company forces us to reconsider whether newspapers should be run as a benevolent public trust, or as a money-making enterprises whose only responsibilities are to its owners and shareholders. To me, these are fascinating issues. If they're not to you, this movie may not be your cup of tea.
Rossi bounces between news stories, interviews with Times staffers, and media critics and pundits. The structure he's found — a series of loosely collected snapshots rather than a detailed portrait — reminds me of the way someone might casually read a newspaper, glancing at headlines, flipping back and forth from one section to the next. You don't necessarily get the best sense of how the Times works but you do get a feel for why it works: because men (and the subjects of "Page One" are almost exclusively white men) like Headlam and Carr believe that The New York Times means more than just something people read on the subway in the morning, and they work their asses off to uphold the values of that have always been at its core. The movie doesn't burrow too deeply into the nitty-gritty of their work, but if, as many in "Page One" speculate, The New York Times is nearing a period of massive upheaval for itself and for all newspapers, this film will serve as a superb document of this hugely important moment just before it happened.
I may be making the film sound dry, and it's not. Under Rossi's gaze, the Times reporters practically become rock stars. Carr, a former drug addict and single father, emerges as the Times' unofficial spokesman and biggest cheerleader. He dresses down the arrogant editors of Vice who think their coverage of the Middle East is hot shit. He openly mocks Michael Wolff and his Newser.com for claiming the Times is a dinosaur while ripping off its content. Even though he's chronicling the collapse of the very business he's in, Carr makes his job look so freaking cool. Forecasts of financial doom and all, I wouldn't be surprised in the least if in ten years there are young people working in journalism who credit "Page One" as their inspiration. That is, of course, if there's anyone actually making a living at journalism in ten years. Those printing presses are starting to look mighty archaic.