Orson Welles Hated Saying Robert Wise's Name in the "Star Trek: The Motion Picture" Teaser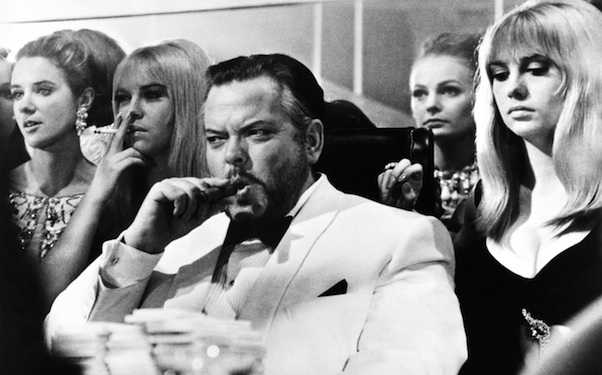 Posted by Matt Singer on
As part of the grand opening of their swanky new Elinor Bunin Munroe Film Center, The Film Society of Lincoln Center hosted a whole weekend of cool free events. On Friday Night, I went to Merv Bloch's Trailer Show, in which Bloch, a veteran of decades in the movie marketing game, shared stories and clips from his lengthy career. Early in the night, Bloch mentioned that his company had designed the logo for "Star Trek: The Motion Picture," and that as part of that film's campaign he got to direct Orson Welles narrating its teaser trailer. At the end of the evening, someone asked Bloch if he had any stories about directing Welles, who could be a feisty presence in a sound booth if he wanted to be.
Bloch had a story. And it was a doozy.
To set the stage, here's the teaser trailer that Bloch made with Welles.
Bloch said that despite Welles' reputation, the two got along famously, in part because Bloch had named his company Rosebud Studio in honor of his favorite movie, Welles' "Citizen Kane." So the recording session was going along smoothly until they hit one major snag. The phrase: "Gene Roddenberry's production of a Robert Wise film."
Before Wise became a director in his own right he worked as an editor at RKO Studios where he cut several of Welles' films, including "Citizen Kane." He also edited "The Magnificent Ambersons," and when RKO executives were displeased with the film while Welles was out of the country on another shoot, Wise helped supervise the removal of an hour of scenes and directed the shooting of a new, happier ending. Welles was understandably displeased with the changes; according to Bloch, he still held a grudge against Wise for "Ambersons" more than thirty years later.
But now Welles was being paid to advertise Wise's film, to say his name with as much awe and import as he could muster. According to Bloch, that proved to be a struggle. Every time they would come to Wise's name, Welles' would intentionally botch it. Bloch did an impression of Welles sneering "A Robert Wise Film" — deep and gravelly and full of contempt — which print simply can't do justice to. Just think of the person you hate most in the universe, then say his or her name with as much bile and disgust as you can muster. Then multiply that by 1000% and you're close.
So how long did it take to get Welles to say "A Robert Wise Film" properly according to Bloch?
"About an hour."
Awesome. Bloch claimed that somewhere he still has the raw tapes of the entire recording session. Maybe if we all ask really nicely, he'll let us hear it.
Do you think you can still hear Welles' anger in his voiceover? Let us know in the comments below or on IFC and Facebook!