Mind yr openers: Future Islands and Titus Andronicus upstage Okkervil River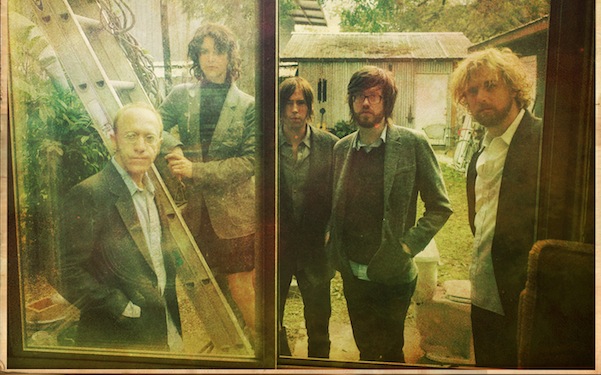 Posted by Grayson Currin on
Last night, Okkervil River headlined a sold-out concert at the Cat's Cradle, the long-time and legendary North Carolina stopover between Atlanta and Washington, D.C. The Cat's Cradle holds just more than 500 people, meaning that any two of the three bands on Wednesday night's bill–Okkervil River, Titus Andronicus and Future Islands, combining for one of the summer's biggest indie tours–could have sold out the show just fine. The Cradle appearance was the second of the month-long tour, and excitement was high. After all, Future Islands are a Baltimore band, but they're actually kids from nearby Raleigh. What's more, neighboring Durham was one of the first towns outside of New England to fall for Titus Andronicus, back before a big record deal and Pitchfork laurels. This was the kind of show, then, where tickets were sold in parking lots, where long-faced indie kids stood close to the entrance in hopes of someone having a spare. It was also the sort of show where you wondered just what Okkervil River is thinking.
Musically, the bill made no sense from the start: Okkervil River makes finely orchestrated, careful indie folk, led by proudly loquacious frontman Will Sheff. It's well-rehearsed stuff, with little room for error or improvisation. The set was a carousel of instruments, with members swapping out guitars and positions between songs as though they were playing a public game of hot potato.
But Titus Andronicus makes willfully sloppy music, backing their Springsteen-meets-Danzig rants about life in New Jersey with a shoegazer's feedback, Sousa-sized melodies and a rhythm section that only acknowledges the difference between loud and louder. Patrick Stickles howls and swears and slurs, sometimes only barely clinging to coherence. At one point, a guitar amplifier started feeding back uncontrollably, but no one cared; they just went for it.
Future Islands is three dudes–a keyboardist who stares at his hands, a bassist who stares straight ahead, and Sam Herring, who sings like a cross between Jack Black, Baby Huey and David Tibet. They make electronic soul with a big, thumping pulse, shaping the perfect frame for Herring's onstage antics. He dances, growls and slaps himself, pushing the emotional hurt of his electronic songs to a visceral hope. They're one of the most thrilling bands on the road right now.
So, sonically, it didn't fit, but there was the hope–or the thought, at least–that the bill might gel on the strength of its respective frontpeople. Sheff, Stickles and Herring are a proud triumvirate of leaders, each at the center of their own universe of sound and story. When Herring sings about the woman whose infidelity became the inspiration for these songs, you get the sense that he's pondered the situation just as much as Stickles has dissected and analyzed his youth, or as much as Sheff has catalogued and parlayed the neuroses he finds in his orbit. But Sheff came off as precious and stiff, with none of the aplomb, ease or enthusiasm of the bands before him.
Neither Titus Andronicus nor Future Islands had ever headlined the Cat's Cradle; for them, it was a new treat, a chance to see how they sounded in the big room, how they looked for the large crowd. Honestly, they looked inspiring, two bands doing what they have long done with disregard for the careful nature of their hosts. The crowd expelled more energy for the short opening sets than they did for the long headlining performance. They clapped when Stickles demanded it, went crazy when Herring implied it with a slap to his own face and a dip of the hip to the left or right. For Sheff and his perfectly rehearsed pathos, they listened until they started to leave, the exhaustion of a dance party and a shout-along ostensibly leaving no room for introspection. Nominally, it was Okkervil River's night; in actuality, you sort of pitied their folly.
So, have you ever gone to a show in hopes of seeing the headliner, only to be stunned by the opener and bored by the time the main act hit the stage? Tell us about it.