"Ninja Kids!!!" Looks Borderline Irresponsible, Awesome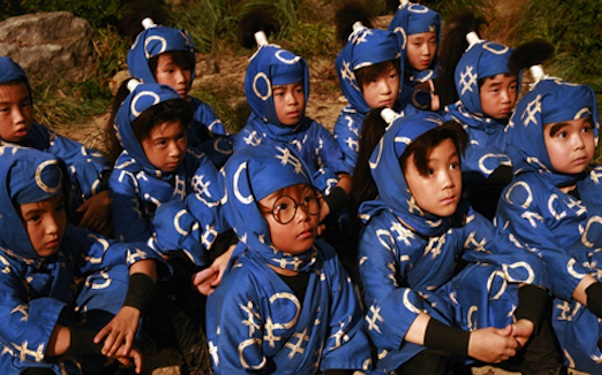 Posted by Matt Singer on
There are just certain things that should be off-limits for children to do in movies. They shouldn't be allowed to drink alcohol, they shouldn't be allowed to watch "Jersey Shore," and they definitely shouldn't be trained to use deadly weapons.
This is why I must see Takashi Miike's "Ninja Kids!!!" immediately. It just looks so wrong. I know it's adapted from a long-running animated series called "Nintama Rantarō". I know that series is for children. But this is Takashi Miike. "Audition"'s Takashi Miike. "Ichi the Killer"'s Takashi Miike. And if you watch the trailer for "Ninja Kids!!!" below, you'll see that amongst all the wacky, cutesy hijinks and kid-friendly antics, a bunch of adorable tykes learning to throw ninja stars. That's not adorable, that's felony assault with a deadly weapon! Okay, so it's kind of adorable too.
There's also a dude with a skull shaped like a Hershey's Kiss. Cause, y'know, that happens to people. Check it out.
I can't wait for all the family-friendly violence that's sure to come when "Ninja Kids!!!" makes its world premiere at the 2011 New York Asian Film Festival in July.
[H/T The A.V. Club]
Looking forward to "Ninja Kids!!!?" Should children be taught how to use throwing stars? Let us know in the comments below or on Twitter and Facebook!