Mumford & Sons come home to where their Americana came from, and succeed completely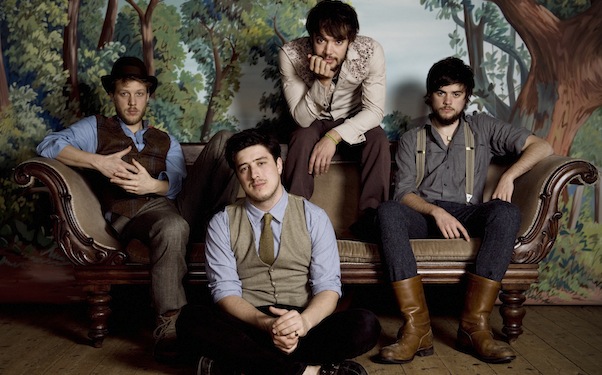 Posted by Grayson Currin on
About a year ago, Marcus Mumford and the backing English trio he calls his Sons could have filled, at best, a small club in Raleigh, the Southern capital named for another Brit, the colonial explorer and sponsor Sir Walter Raleigh. During the past year, though, the band's become a major commercial force on three continents, with their debut, Sigh No More, going platinum three times at home, once here, once in New Zealand, once in Canada and, again, three times in Australia. In fact, Sigh No More is the first album to go platinum in both the United States and the United Kingdom since Coldplay's Viva La Vida.
And it's not only the recorded work that's pushing them forward: They're sandwiched between Robert Plant and The Strokes for this weekend's Bonnaroo festival, and Mumford & Sons recently finished a massive tour by vintage train with fellow Americana miners Edward Sharpe and Old Crow Medicine Show. Needless to say, when they arrived in Raleigh for the first time last night, it was a big deal. The show was sold-out, and a queue of people stood near the box office during the two opening acts, hoping some extra tickets might be released.
In and of itself, the sell-out had to feel like a certain validation for Mumford & Sons. Here they were, an English band playing brusque, bumbling Americana with banjos and acoustic guitars at the foot of the Appalachian Mountains for the first time. It's sort of tantamount to a brass band flying from Belgrade to New Orleans, a Norwegian rapper making his debut in the Bronx. Mumford & Sons took the sound back to the source and succeeded, with two sell-outs in their first two shows in this state. What's more, the capacity crowd of about 5,500 knew every word from Sigh No More, and they weren't afraid to share them. They sang and shouted to the building "Awake My Soul" as though this were an Arcade Fire set, shook and proclaimed during "The Cave" as though this were an all-night dance party. From start to finish, Mumford & Sons sold it back to the sold-out lot of natives.
I was ambivalent about Mumford & Sons until last night. Their songs of love, disgust and the mix thereof have often seemed to lack nuance and subtlety; their tales seemed too generalized, too far removed from narratives and specifics to hold interest. Other critics have lodged empty complaints about authenticity and nostalgia and meaning at Mumford & Sons, but, for me, it's always been why bother? The Avett Brothers, their closest stylistic kin, live about three hours away from the amphitheater Mumford & Sons played last night; they cut their teeth in a tiny bar just a block away. How many bands like that did I need to know?
But last night won me over entirely. Mumford & Sons play with an essential lack of cool, brandishing an infectious earnestness that's absolutely convincing. They moved from a song that sounded like Radiohead to a song that sounded like a mountain ballad without hesitation, and the crowd moved right along with them. Their crossover potential is already apparent; I think it might also be infinite. To wit, the band handled the big show with a perfectly casual air, joking with the same level of cocky insobriety you'd expect from a no-name act crowded into the corner of some, small dingy pub. They joked Asheville, the western North Carolina town they'd played the night before, while extoling the state's mountains-to-sea geography. There is a kinship, explained Country Winston, between his home and ours, thanks to some mix of alcohol, string music and colonialism. The crowd identified, lifting sweaty cans into the humid late spring air and hollering back gratitude for his praise. Their ribaldry suited the crowd's mood, too, so that when Winston called a backing trio of horn players "beautiful motherfuckers," he was greeted with laughs and cheers. It was as if he were an old friend introducing you to new friends at a party. It felt familiar and warm.
Those horn players offered another bit of validation for Mumford's sudden rise to fame: Even with that addition and the occasional help of a Texas fiddle player, the quartet clung to its hardscrabble core of four, building outward from its clanging Americana foundation. The Avett Brothers have similarly annexed their personnel in recent years, and it's sometimes been an awkward, unstable fit that seemed forced, the type of move a once-small band felt it had to make in order to meet its growing audience. Even on the handful of new tunes they played, Mumford & Sons only seemed to add these extra elements because they thought it would sound better, not because it needed to sound different or somehow bigger. The spotlight remained, then, on their personalities and on their songs. Given the response of the audience last night in Raleigh–and, in turn, the response of Mumford & Sons to that audience–I expect it will for a long time to come.
Have you seen Mumford & Sons live? What did you think?