"The Twilight Saga: Eclipse" Was The Best Movie Of 2010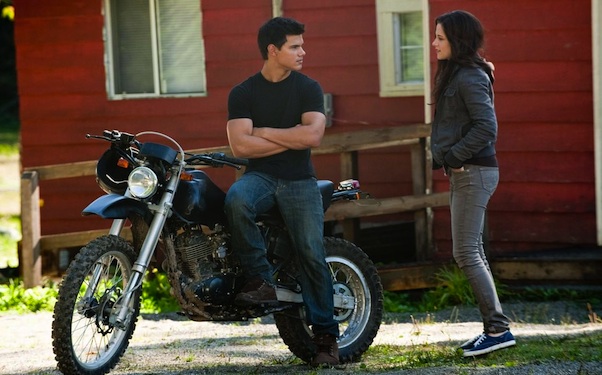 Posted by Matt Singer on
Look, I'm not going to get on my soapbox and rant about the MTV Movie Awards. The mere fact that I use the phrase "get on my soapbox" is a good indication that I'm way too old to get indignant about "The Twilight Saga: Eclipse" being declared the best movie of the last year or Robert Pattinson winning Best Male Performance over Jesse Eisenberg, or Justin Bieber winning Best Jaw-Dropping Moment for his concert film "Never Say Never." Wait, Justin Bieber won Best Jaw-Dropping Moment for a concert film? Aren't concerts, like, his job? What's so jaw-dropping about that? He beat Steve-O's Port-O-Potty bungee stunt in "Jackass 3D?" The man risked death by poop ingestion for our entertainment, people! THIS IS AN OUTRAGE THAT I — ah crap, there I go getting on my old man soapbox. Sorry.
Actually, I find the MTV Movie Awards pretty fascinating (if you missed them, and you're willing to watch a lot of commercials in the process, the whole show is online — I recommend you at least make time to watch Jim Carrey's introduction of Foo Fighters). Since they're voted on by fans obsessive enough to care about who wins the MTV Movie Awards, they're a pretty good litmus test of young moviegoers' passions. And, yes, obviously they're pretty passionate about the "Twilight" films right now, as the movie won five out of the six categories in which it was nominated: Best Movie, Best Male and Female Performance, Best Fight, and Best Kiss (SQUEEEEEE!).
So, yeah, that was predictable. But take a look at some of the other winners below. Would you have predicted Emma Stone taking Best Comedic Performance over the likes of comedy heavyweights like Adam Sandler and Zach Galifianakis? Or how about "Kick-Ass"' Chloe Moretz winning two awards for Best Breakout Star and Biggest Badass Star? Neither "Easy A" or "Kick-Ass" were major hits at the box office; combined, they barely cleared $100 million bucks domestically. Either these guys have absolutely amazing street teams getting out the online vote, or those movies are gaining major traction with that MTV audience on DVD.
Wait, is that MTV audience even old enough to watch "Kick-Ass?" That film was rated R. Parents of America, you have failed again.
The 2011 MTV Movie Award Winners
Best Movie: "The Twilight Saga: Eclipse"
Best Male Performance: Robert Pattinson, "The Twilight Saga: Eclipse"
Best Female Performance: Kristen Stewart, "The Twilight Saga: Eclipse"
Best Comedic Performance: Emma Stone, "Easy A"
Best Breakout Star: Chloe Moretz, "Kick-Ass"
Best Kiss: Kristen Stewart and Robert Pattinson, "The Twilight Saga: Eclipse"
Best Villain: Tom Felton, "Harry Potter and the Deathly Hallows: Part I"
Biggest Badass: Chloe Moretz, "Kick-Ass"
Best Jaw-Dropping Moment: Justin Bieber, "Never Say Never"
Best Scared-as-S**t Moment: Ellen Page, "Inception"
Best Fight: Robert Pattinson vs. Xavier Samuel and Bryce Dallas Howard, "The Twilight Saga: Eclipse"
Best Line from a Movie: Alexys Nycole Sanchez, "Grown Ups" ("I wanna get chocolate wasted!")
No, really, was "The Twilight Saga: Eclipse" the best movie of 2010? We want to hear what you think. Tell us in the comments below, or on Twitter and Facebook!