Tetsuya Mizuguchi Talks "Child of Eden"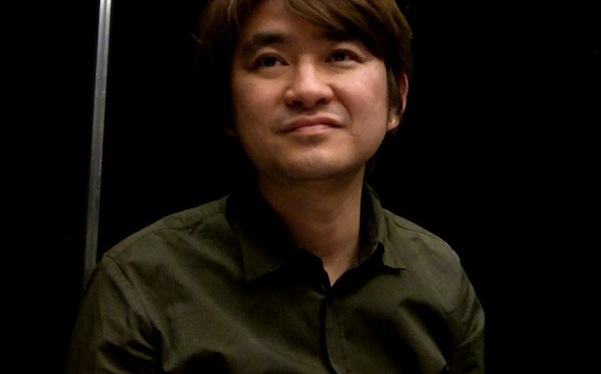 Posted by Evan Narcisse on
Tetsuya Mizuguchi creates video games like very few others can. He came up through the ranks at Sega, contributing to games like "Sega Rally Championship". However successful those titles were, gamers only really began to get the first true glimpse of his sensibilities in 1999 with "Space Channel 5," a rhythm game for Sega's Dreamcast console where players mimicked the beat of multiple songs to defeat mischievous alien invaders. The loopy, bouncy design channeled the energy of music videos and dance clubs in its aesthetics and mechanics. Two years later came "Rez," a trippy shooter with vector graphics like arcade classic "Asteroids." The game's fiction placed you in the disembodied avatar of a hacker trying to penetrate the consciousness of a far-future computer network that became sentient. In "Rez," rave-inflected visuals and a trance soundtrack with contributions from DJs like Ken Ishii meshed with syncopated controller vibration and a variety of sounds that triggered when players pressed buttons. In the final battle, you battled against a backdrop of existential questions. The end result was a game that wove various sensory inputs and Philosophy 101 into one throbbing whole, making "Rez" a cult classic that gets gets talked about as an artistic masterpiece.
Other games followed "Rez," like the "Lumines" puzzle series and inverse shooter "Every Extend Extra," adapted from an indie game where you blow yourself up to kill on-screen enemies. But, it's the brand-new "Child of Eden" that figures to enthrall gamers the way that "Rez" did. The spiritual sequel to the trance shooter sends you through mesmerizing levels that represent virtual archives of all human memory, purifying corruption as you go. "COE" uses the Xbox 360's Kinect motion-sensing camera to let you target and blast through the game using hand gestures. Integrating player movement is a significant addition for someone with Mizuguchi's design philosophy, which has tried to engage as many senses as possible. Mizuguchi spoke with me about where "Child of Eden" fits in his creative evolution.
You've been showing "Child of Eden" all over the world for the last few months. Have you been happy with the way people have been playing the game so far?

Yeah. Very happy.
It's interesting to me because it's very much like "Rez" in some of the visuals and level design. Is that intentional? Did you mean for it to be like "Rez," to look like "Rez"? Or do you want people to think about it differently?

It's a very complex feeling. This is kind of a spiritual successor to "Rez," in my mind. But, it's totally different, too. This game idea has a different story, meaning, and music also. So, this is a new thing but one that also has a lot of the same DNA of "Rez."
It seems to me that something all of your games have in common is that you want the synaesthesia, the blending of the senses, to happen in the player. What does Kinect give you in order to achieve that goal? You already had the visuals and the sound kind of meshing together in your previous games, so what does Kinect add to that mix?

Kinect is a totally new experience for everybody. That was like a sci-fi movie experience two or three years ago, but we can do it now. So this technology, Kinect, is almost like a conductor feeling. So you can play the sounds, participate in the music.
It felt to me like it was painting. Like you were painting with your hands on the world or touching the world. When you were first planning this game was it specific to Kinect? Did you see the Kinect technology and then realize I can finally achieve this? Or was it something you were planning before Kinect came around?

I made a presentation to Ubisoft with my original concepts and we blended some other ideas. The big question was, can we use this technology to bring in a new kind of experience? We found that we could and it was wonderful. So, that was kind of the spark.
Did you go back and rethink what you were doing before you started to integrate Kinect?

Yeah. And we had the time to blend the ideas, and we thought about what would be the new experience using this new Kinect technology together with what we were making.
The story of the game has the player going through these symbolic archives of collective human memory. Was it a goal of yours to try to talk about humanity as one big entity for this game?

Yes. I wanted to make a very human-feeling game using the music. The music is also very organic. With the combination of Kinect and the music, I'm trying to communicate the feeling and the touch of the human heart. So I decided that Lumi, the girl inside the center of the game, would be the core of the game. And I had the image that she's singing all the time. She's kind of a metaphor of this world. The people who play save her and get given back the voice, the song and the organic connection. That kind of image I had. I spent a lot of time making the concept, and I wrote a long, long basic story. It's like a poem, 40 pages long, that's kind of the Bible of this game. And then everybody– artists, sound designers, programmers–read my basic story and started working together to build the world.
That sounds like a fascinating process because you're trying and create something lyrical where it makes more sense aesthetically than it does maybe logically. . It seems like you always have women at the core of your games, Ulala in "Space Channel 5", the Eden AI in "Rez," the AI in there, and here in "Child of Eden," there's Lumi. Is there a reason for that?

You know, I don't know. I'm doing things like that naturally, subconsciously all the time.
Could it be that you feel like maybe is it something that's missing in video games in general? Like, a female sensibility?

Maybe, yes.
What made you decide to incorporate something like "Project Journey" into the game?

That was a very simple thought. I wanted to involve the people in the process of the creation of the production. So, I thought, how can we do that? And then, very suddenly, I got the image, it's like a spark. OK, let's call to the public. So we want your memories, beautiful memories to be a part of this archive in "Child of Eden."
It makes sense with the story of the game too.

Right. Right. Then we announced it and we got like 4,000 to 5,000 pictures from the world. And then we picked out 400 to 500, finally. So we put all the pictures at the end of this game. So this is the ending. But not just an ending where you're watching. This is kind of a touching ending. So this is interactive.
So you feel like more involved in it. Like you could have given a piece of yourself to it?

Right.
Can we talk about the music, because obviously that is such an important part of your games? Where is the music coming from in "Child of Eden"?

It's all original music with some DJs like Metalmouse remixing parts of the project.
You know it's interesting because it seems like your ideas–when it comes to game design–start more emotionally rather than logically. You don't think about what the technology can do now. It seems like you think about what the end goal is, what you want people to take away from the game. I know that's part of who you are. But why do you think that is so different from the way other people make games?

I want to know that myself. [laughs]
Yeah. It's a question you have yourself. Yeah. I totally understand. But you see the point that I'm making. It seems like other people, they go into a design program, and they're like, oh, I can do this, this, and that, without thinking what the affect is going to be on the player first. And you seem to think, all right, what is somebody going to feel when they look at something or see how the sound and the vision come all together.

Yeah. I know this is not the easy way. All the time, it's a very tough way to make this kind of a game. So if I am a game designer and I want to make a traditional FPS or driving game, it's going to be easier. But I want to be on a creative journey all the time. Of course, it's really tough but it's also really fun to find the new something. "Child of Eden" was a big, long journey. After this kind of long journey, it's really exhausting. I don't know the future, but maybe we'll try and do something new again soon.
So, it's not a theme you are going to abandon. Whatever you do next is going to have some element of that probably. Can you confirm that the team is working on a Playstation Move version?

Yes, for Playstation 3. I'm interested in any new technology, and really happy with Move [motion control] and 3D technology.
It seems like it would be a natural for Move to control "Child of Eden" and the game would look great in 3D. That will be another journey, then. Will it be totally different than this?

I don't know how different it will be yet. Synaesthesia is my life theme. This is my DNA. I started my career from arcade games, like "Sega Rally." And it evolved into what I'm doing now. So, many different elements, you know, gathering together. The people who work with me also love this kind of chemistry.
Right. You bring people together who have a similar goal in mind.

Yeah. I hope the game does the same thing, too.