Microsoft Announces This Year's Indie-Packed 'Summer of Arcade' Line-Up for Xbox 360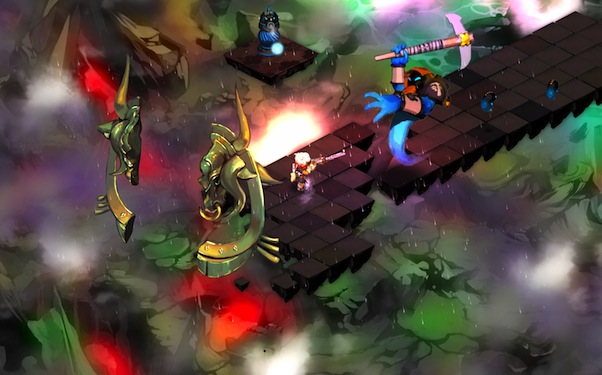 Posted by Evan Narcisse on
Puzzlingly, top-tier video games tend to get really scarce in the summer. (This June, with "Infamous 2," "Shadows of the Damned" and other games has been an anomaly.) Maybe it's because publishers want buyers to spend their cash on the highly hyped releases that flood retail from September to December each year, or they think that players' vacations take them away their consoles.
Whatever the reason, Microsoft's taken advantage of video games' dog-day doldrums for the last few years, and packaged promising downloadable games into a programming block called Summer of Arcade. It makes use of the Xbox 360's Xbox Live service to digitally deliver a handful of games The featured titles have been a mix of big studio games and indie efforts and last year's standouts included "Lara Croft and the Guardian of Light" and "Limbo," a title that's gone down as an all-time classic.
While this year's roster was revealed at E3 2011 a few weeks ago, it was still up in the air as to when Xbox owners would be able to get their hands on them. Microsoft's just announced availability for the five titles for this year's SoA and it looks like the months of July and August will be a lot more bearable for fun-starved gamers. All of the games will cost 1200 Microsoft points, or $15 in real-world money. And if you get all five, a sixth game–the retro-styled hack-n-slash "Crimson Alliance" by Certain Affinity–can be downloaded free as a bonus.
The Summer of Arcade game that's gotten the most buzz has been Supergiant Games' "Bastion." It's the story of a hero called the Kid who's trying to restore the Earth after an event called the Calamity breaks it up into a series of floating archipelagos. The pulpy narration by a mysterious, gravel-voiced dude is dynamic, meaning that it responds to what you're doing in the game. The gameplay's a top-down blend of action and RPG elements, done up in hand-drawn art that makes "Bastion" immediately appealing. Leading the charge on July 20th, it looks like it might be the alpha game of the bunch.
"From Dust" comes by way of UbiSoft, and revolves around a unique terraforming mechanic with lush visuals. It's the creation of beloved designer Eric Chahi, who's best known for his classic PC game "Out of This World." "From Dust" belongs to the god game category, a strategy-based genre once dominant on PC, and it should reintroduce a whole new generation of players to what it's like to shape a planet to their whims. Look for it on July 27th.
"Insanely Twisted Shadow Planet" hits on August 3rd from developer Michel Gagne and the Fuelcell Games studio. Its blend of artsy silhouettes and old-school side-scroller design has had indie game watchers hankering for months, so it's great to see it finally rolling out in a significant way.
I've already previewed the fourth SoA game a little while ago and can honestly say I haven't been able to stop thinking about "Fruit Ninja Kinect" since I tried it out. Its August 10th release date can't come quick enough. Daddy needs to slice some citrus.
Finally, Signal Studios' "Toy Soldiers: Cold War" blends first-person action and tactical challenge in a game that lets you run wild in a playground made up of the war-crazy pop culture of the 1980s. Imagine all the insane conflicts that you created with your action figures and their vehicles in the form of a modern-day, hi-def video game and that's what you'll be getting on August 17th.
Whether you get all of the Summer of Arcade titles or just grab a few, chances arre you'll be throwing your support behind games made with singular vision and intense commitment. Fifteen dollars is a quarter of the price of a disc-based game, and the perfect price to take a chance on something different. Even "From Dust", which has the power of major publisher UbiSoft behind it, might have a hard time if it had to entice would-be purchasers from a store shelf. So, pick out a Summer of Arcade and have a fling with it. It could be an unexpected gem.
Which Summer of Arcade title gets you all sweaty? Let us know in the comments below or on Facebook or Twitter.