Machinima Masters Rooster Teeth Cook Up A Real-World Zombie Apocalypse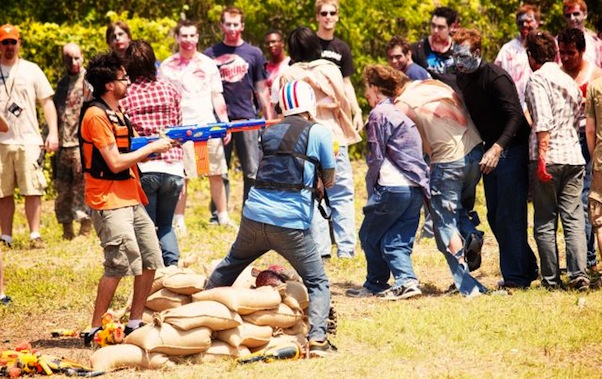 Posted by Evan Narcisse on
When it comes to Internet success stories, the gaming comedy collective known as Rooster Teeth helped carve out the mold of what it looks like when a bunch of normal guys effing around manage to grow an actual phenomenon. They helped popularize machinima, the practice of using already extant game engines to make all-new content. In the early 90s, machinima got used to make everything from music videos to one-offs that became viral memes. But Rooster Teeth were amongst the first to actually create an ongoing machinima series in the form of "Red Vs. Blue."
"RvB" chronicled the wayward fates of two opposing squads of Spartan cyberwarriors on the terrain of one of the first "Halo" game's early multiplayer maps. The bumbling soldiers on Rooster Teeth's inaugural production captured the hearts of players just as Microsoft's sci-fi FPS was growing into the phenomenon it'd later become. Most impressively, the dudes at the Austin-based production house were able to break away from the gravitational pull of "Halo," grow their own community of RT fans and produce other series.
The most recent of these is "Immersion," which pits commonplace video game tropes up against real-world testing with two hapless gamers as the guinea pigs. The latest episode of "Immersion" takes on two recurring features from the games of today. First is the proliferation of zombies throughout blockbuster video game releases. It's one thing for franchises like "Resident Evil," "Left 4 Dead" and "Dead Rising" to throw tons of the undead at you, because they're all built around that mythos. But, when otherwise realistic series like Activision's "Call of Duty" games start mining the zombie trend, one can only surmise that they're trying to broaden their appeal and make some cash in the bargain.
The other trope that episode 8 of "Immersion" examines is the multiplayer feature known as Horde Mode. In 2009, "Gears of War 2″ introduced a new multiplayer option called Horde Mode. It tasks a team of players to survive against randomly spawned waves of enemies that get tougher as you go along. Since then, lots of games have included variants to this formula but the basics generally persist. Hunkered down around an ammo stash, everyone playing needs to spot and kill as many antagonists as possible. You'll generally be able to revive a fallen comrade if he falls down on the field of battle, but put yourself at risk in doing so.
I really like how the arc of our two hapless heroes in this "Immersion" ep moves from foolhardy overconfidence to frustration to panic. It happens all too often in co-op video game play and would probably happen in true-life zombie scenarios, too. Filming for this "Immersion" installment took place at RTX 2011, the production company's convention. The zombies horde is made up from attendees of the Rooster Teeth fanfest and, all things considered, I think they acquitted themselves well. You can view more episodes of "Immersion" here.
Do you think you and your friends would do better than Geoff and Gus in facing down a zombie horde? Let us know in the comments below or on Facebook or Twitter.