L.A. noir at its finest: "Kiss Me Deadly" on Criterion Blu-ray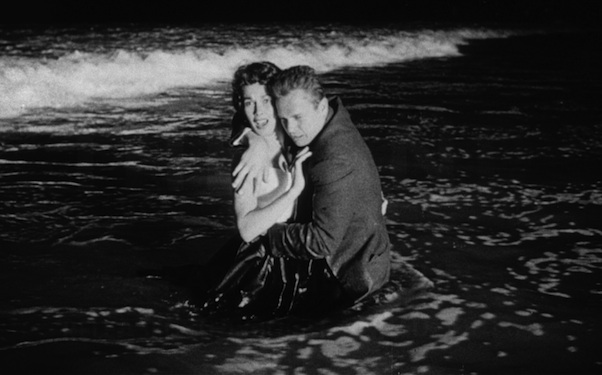 Posted by Matt Singer on
"Kiss Me Deadly," out today in a new Blu-ray and DVD edition from The Criterion Collection, is the ultimate film noir, an example of the form at its bleakest and blackest. Everything about it is extreme, from the amorality of its greedy, violent hero to the sexuality of its femme fatales, whose distinctly carnal heavy breathing provides the soundtrack to the opening credits.
Those credits made our list of the greatest opening titles in history. They begin with Mickey Spillaine's famous private eye Mike Hammer (Ralph Meeker) as he nearly runs over Cloris Leachman's Christina Bailey, naked except for a man's trenchcoat, on a deserted stretch of road outside Los Angeles. He gives her a lift and as she catches her breath (or has an orgasm; from the sound alone, it's tough to say) the credits scroll on screen from top to bottom with the words arranged from bottom to top. When the title appears onscreen it reads "DEADLY KISS ME," a picture starring the great "MEEKER RALPH" as Hammer. As our own R. Emmet Sweeney astutely observed in his piece on the "Deadly" opening titles, the effect is ominous and disorienting, the perfect prelude to Hammer's journey into the L.A. underworld. Once this seemingly innocuous car ride introduces him to a criminal conspiracy of gamblers, cannons, and atomic secrets, Hammer can find no bottom and no escape.
His car ride with Christina ends with a mysterious beating, a staged car crash, and the death of the hitchhiker (all beats that will be mirrored in the film's ultimate finale), but Hammer's not motivated to solve her murder out of some sense of nobility or desire to bring her killers to justice. Rather Hammer realizes Christina's involvement in some sort of mass coverup involving gangsters, scientists, and newspaper columnists could mean a big payday and a quick ticket out of the small time divorce cases that pay his living. Even after his snooping has yielded him an initial offer of some hush money from the men responsible, Hammer refuses it, thinking there's a lot more to be found if he keeps digging. It's a greedy impulse he will ultimately regret. It is interesting to note that the search for truth in "Kiss Me Deadly" isn't a heroic pursuit; it's a selfish, destructive act. Screenwriter A.I. Bezzerides' cynical screenplay doesn't portray Hammer's work as an investigation; this is a guy sticking his nose where it doesn't belong. And for his curiosity a whole bunch of people get a face full of fire.
This is film noir. You know what comes next: double crosses, fist fights, and seductive women, all washed down with two fingers of bourbon. That said, even as it provides all the requisite genre thrills of film noir, "Kiss Me Deadly" goes further, building to a climax that belongs more to the tradition of science-fiction than crime novels. Coming in 1955, at the tail end of the classic noir period, director Robert Aldrich's film provides something bridge between the dark detective stories dramas made in the wake of World War II and the paranoid sci-fi allegories of the Cold War. The film's insane and spectacular ending, with its gunfights, explosions, and apocalyptic overtones, is like the sick and twisted best of both worlds. No wonder its helped inspire so many films that followed, from "Raiders of the Lost Ark" to "Pulp Fiction."
If you've never seen "Kiss Me Deadly" before, you have to, and Criterion's new edition of the film is a damn good way to make your introduction. The film looks beautiful, crisp yet gritty; those deep, sooty shadows have never look more sinister. The extras include an informative and conversational commentary between noir experts Alain Silver and James Ursini and essays by Aldrich and critic J. Hoberman. My favorite supplement, though, is the photo and video tour of the film's seedy Bunker Hill locations, "where film noir heroes routinely came to hide out or die," by writer and historian Jim Dawson.
Here is my one critique of "Kiss Me Deadly:" it has the wrong ending. Watch the film with its original ending, then watch the alternate one included on the Criterion Blu-ray. That alternate finale, which was mistakenly placed onto prints of the film for decades, is much darker than the one Aldrich intended. But think about the movie, and the considerable darkness of the world it depicts. To me, there's really only way it can end: with our sinful heroes in the embrace of the deadliest kiss of all.
Which "Kiss Me Deadly" ending do you prefer? Tell us in the comments below or on Facebook and Twitter!