"Judy Moody" and the Rarity of Indie Family Films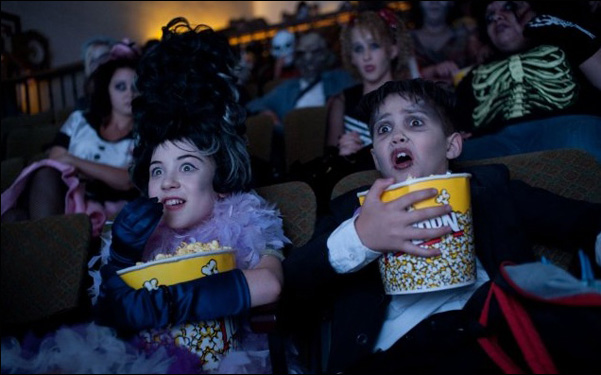 Posted by Stephen Saito on
When John Schultz was in elementary school, his favorite classroom activity was when the teacher would hand out a vocabulary list of 20 words and he would have to write a story that employed all of them. "I loved that challenge of here's what you have to work with. Make it work," Schultz said.
It shouldn't be all that surprising then that the director is making his third indie feature, but it is refreshing that with this week's "Judy Moody and the Not Bummer Summer," he's aiming to entertain today's elementary school kids by working in the indie world's least prolific genre, the family film. Oddly, in the considerably more ungoverned area of the medium that's wide open to personal coming-of-age stories and cinematic anarchy, few are made with the intention of appealing to all audiences.
Less unusual has been Schultz's career path, though it still might strike some as peculiar. After directing the scrappy, amiable music comedy "Bandwagon" with Sundance staple Kevin Corrigan in the lead in 1996, Schultz followed it up with a steady stream of studio work that tended towards the young such as "Like Mike" and "Aliens in the Attic." Disney has long mined the indie ranks for unusual choices: Joe Nussbaum went from directing the short "George Lucas in Love" to this year's "Prom," and when they looked for a director for "The Lizzie McGuire Movie" in 2003, "Trick" director Jim Fall wasn't the obvious guy for the job. For Fox, this summer alone will see the director of the pitch black "The House of Yes" (Mark Waters) tackle Jim Carrey's "Mr. Popper's Penguins" and the romantic drama "Big Eden" (Thomas Bezucha) handling the teen fantasy "Monte Carlo."
But whereas most of those films have felt as if they were stepping stones for other gigs, only a handful of filmmakers including Robert Rodriguez, who will soon launch his fourth "Spy Kids" in August, and Schultz, a tall, lanky man in person with the goofy grin of an eternal 12-year-old, seem genuinely invested in making features for the young. As limited a number as that is, there seem to be even fewer production companies with the will to invest in them and the few that do, such as Walden Media, have gravitated towards larger-scale projects such as "The Chronicles of Narnia."
Having already gone the indie route before for 2003's "When Zachary Beaver Came to Town," Schultz proved to be an attractive candidate to "Judy Moody" producer Sarah Siegel-Magness, who herself was fighting an uphill battle for the rights to the bestselling book series over production companies with studio support. After defying the odds with "Precious," which had yet to premiere at Sundance during her pursuit of the "Moody" rights, Siegel-Magness won the trust of the similarly modest Massachusetts publisher Candlewick Press by offering the book's author Megan McDonald a chance to write the screenplay and keeping the amount of cooks in the kitchen to a minimum.
"We both seemed to share the idea that you could make quality commercial films independently," Schultz said of Siegel-Magness, whose company Smokewood partnered with Relativity Media to release the film. "Not have to dumb it down and make it with an independent spirit, but for a mass audience at the same time."
Recalling how he once spent a week on a studio film discussing the color of a character's T-shirt, Schultz says now that "Judy Moody" has been his most satisfying experience on a film since "Bandwagon" as far as maintaining his creative freedom, something that can be felt in the film's go-for-broke visual style and even its score, for which the director was able to employ the all-too-rare luxury of an 80-piece orchestra. And having completed a film her own kids could watch without a major studio logo in front, Siegel-Magness hopes it's music to the ears of both families and filmmakers, especially since while the "Harry Potter" series have already been turned into films, somehow the novels of cherished authors like Judy Blume haven't been.
"We're charting a brand new expedition into whether this works or it doesn't, which is scary," said Siegel-Magness. "But I feel like if it does work, I hope that we encourage other filmmakers not to be afraid to go after some of these bigger properties because what we bring to the table in terms of creativity and a more loosely run structure can make these films something completely new and different."
Do you think there should be more family films produced independently? Let us know in the comments below or on Twitter or Facebook.