John Turturro's "Passione" Project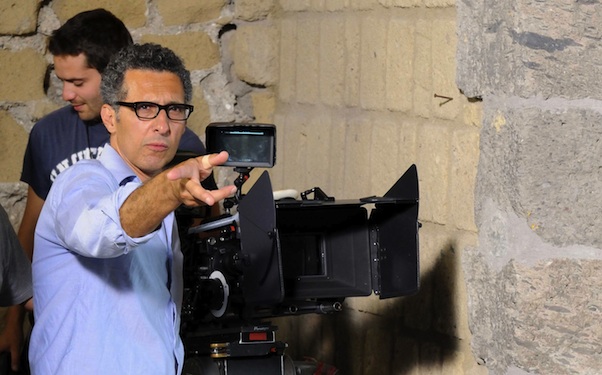 Posted by Matt Singer on
John Turturro likes killing cliches. Though he's best known as an actor, particularly for his work with Joel and Ethan Coen ("Barton Fink," "The Big Lebowski") and Spike Lee ("Do the Right Thing"), "Passione" is Turturro's fourth film as a director, and his first documentary. In it, he presents the music of the city of Naples in all its rich and vibrant character, from ancient ballads to classical compositions, to modern jazz, reggae, and more.
Turturro put his love of music on full display in his last film, 2005's "Romance and Cigarettes," which featured the likes of James Gandolfini, Kate Winslet, and Christopher Walken bursting into song. "Passione" takes things even further; it's like a wild crazy jam session playing out on the streets of Naples, with one powerful performance after another all linked together with stories, personal anecdotes and even a few appearances by Turturro himself as narrator, storyteller, and, in one scene, backup dancer.
Though the title makes it sound like Turturro has worked his whole life to tell this story, that's not the case; in fact, Turturro was invited by local producers to bring an outsider's perspective on Neapolitan music. Though he already loved the city, Turturro was surprised by what he found in his research. "It's really international," he told me of Naples' melting pot of musical influences. "It's not just these lament love songs that I heard growing up, some of which are really good but I wasn't that interested in. I [told the producers], "Listen, I'm not interested in doing the cliche stuff. Maybe if we could kill the cliche…"
During our half-hour conversation, I talked with Turturro about killing cliches, and what he thought his status as something of a Neapolitan neophyte brought to this unusual project. Plus we discussed his work with the Coens, his dream of making a movie about the notorious Jesus Quintana, and what it's like to counter-program yourself during summer movie season.
The producers actually came to you and pitched you the project. How did their pitch vary from your finished film?
Well, they said "Buena Vista Social Club." The first thing I said was "You don't want to make a movie about putting a band back together, because that was a very specific story." Then they wanted to do something that would be a little more all-encompassing. Truthfully you could make a ten hour documentary about this subject matter.
When they asked me to do it they knew I had worked [as an actor in Naples], and that I liked music, and people there really loved "Romance and Cigarettes." The film ran for seven months there and did very well. So they hooked me up with a journalist and musicologist [Federico Vacalebre] and he was sort of my tutor. He'd send me documentaries and songs, and I would listen to them. There were singers I liked, and when I met them and saw what they looked like, I was like "Wow, this person could be good on film." And you could tell from their renditions if they could be an interesting storyteller. Because a lot of singers, you put a camera on them and you need fifty cuts to sustain it.
Eventually by the time we said okay after two years of work, we had selected the songs. But I changed my mind, even in preproduction and sometimes even in the course of filming, so we had to improvise a lot. Eventually it became like a musical adventure through the city, where each song tells you a little something about the city. And I cut a couple songs out because I wanted to leave the audience wanting more.
It was really an adventure. We shot 23 songs in 21 days. It was nuts. And a lot of the songs are live. So it was really like a little miracle. It could have been a disaster. The first day I was thinking "I don't know what the hell I've got myself into!" [laughs]
You might assume given the subject matter, given the title, that you spent your whole life studying Neapolitan music, or that you grew up there. But you didn't; you just love the city and the music. What do you think that perspective brought to the movie that it wouldn't have if someone who was a lifelong expert had made it?
Distance. Early on they said "Y'know John, you have to do an immigration song, you have to do this, you have to do that…" And for a while, I conceded. And then when I was looking at the songs and the arrangements I was thinking, "This is too heavy. You're going to be bored. I need something slow, then I need something delicate, then I need something powerful." The film starts telling you what you can do. So eventually I told them "I don't have to do anything you tell me. I only have to make a movie that people will stay awake for. And that's my job."
This was a fantastic education, but what was really interesting for me was to see these people when they sing; they sing like they're rooted in the ground. You watch singers [in America], they have big voices but a lot of times they're trying to sing to impress you. And these people are singing out of this need of who they are.
The performances in the film reminded me a little of the performances in "Romance in Cigarettes." People singing their guts out in these very naturalistic settings.
Yeah, but it's a whole different thing here. In "Romance and Cigarettes," they wish they could sing. I think when you see someone who's a great performer they can encapsulate so much in a song. It's one of the great things about being a human being, being exposed to different kinds of music.
I was intrigued by the way you structured the film so that the explanation or history about a song often came after the performance rather than before it. Why'd you choose to edit things that way?
There's that number, for example, "Catari." Fausto Cigliano plays "Catari" in front of this painting. Some people who are art historians will know that painting is a Caravaggio and it's "The Seven Acts of Mercy." Now I could have subtitled it. But you're experiencing the painting as a painting. And you experience the song as a song. I don't want to over-subtitle everything. Like the song "Canto Delle Lavandaie Del Vomero" in the Roman aqueduct. That song is from 1300. It's the first popular song. The lyrics are really simple, so I didn't even subtitle it.
Some songs we talk a little bit more about than others. I wasn't stringent, I didn't make up rules. I kind of let what we had tell us what was good and what worked. Some people wanted more explanation, but I think that would have taken away from the emotional experience of the movie. And that's what the movie is, You come out of it, you're like "What the hell was that?" And if you want to know more, you can ask me and I can tell you.

That's what the DVD commentary's for.

That's right.
Most of the musical numbers are set in the streets of Naples, and we often see the performers surrounded by people who don't look like extras. And what's amazing is how rarely those people even register what's going on in front of them. They're so nonplussed to see a camera crew filming musicians playing in the streets. Were these just the residents you found in these locations?
When we shot on the beach, for example, I thought people were going to all react. And they all just stood there like extras. I asked someone, "What's going on here? No one's reacting!" Not that I wanted them to react —
Right, but if you did that here–
People who be like "Whoa!"
Everyone on the beach would come running over.
Yeah. And they said "This is Napoli, it's normal."
[laughs]
I mean the guy standing there is a middle-aged man, he's in perfect shape in a bikini, and he looks like the perfect extra. You couldn't get someone to stand like that! And even the guy in the one scene who starts shooting our camera with his camera phone, it's almost as if he's part of the scene. Sometimes people looked at the camera but most of the time we're filming them watching what's going on. And I thought that was very truthful, and I loved it.
I love breaking the fourth wall. Sometimes it's great not to, and then other times it's great to go "Yes, we are making a film." And it makes you feel like "Yeah it's just a film. But we're all enjoying it."
It works for your film, too, because it's all about the character of this city and it sounds like that sort of nonchalance is very much a part of the character of this city. Maybe this isn't that unusual. Maybe people are kind of used to folks singing in the streets.
They are. Music is an essential part of that city's life and survival.
I love how you've essentially counter-programmed yourself this summer. If you want John Turturro, serious filmmaker, you have "Passione." And if you want John Turturro, the actor who doesn't take himself too seriously, you can see him in "Transformers 3" next week. You could see them together a double feature.
The truth of the matter is one thing has to support the other. Not that long ago, I hardly ever did mainstream movies. I used to do medium sized films. And now those films don't exist. If I could only do what I wanted to do, I would do it. I would. I like doing something for my kids, and they like it and I enjoy it, and I try to do something funny in those movies…
You wouldn't get to be peed on by a robot, though, if you only made your own movies.
Right. I mean I don't mind doing that. But it's funny because when you do that people go "You're the guy in 'Transformers!'" And I'm like, "I've made like 60 movies before that buddy."
I look upon it like it's a job. And I try to go in there and I bring whatever I can. It's not like a detailed painting, it's more of a really bold sketch. But I come in there and I bring a lot of energy to it. And sometimes it's good not to be too much of a snob. I just think you've got to find the right balance.
Last night, I was flipping channels and I found you on CenterStage. Near the end of the show, they asked you what character from your career would you like to play again. You said The Jesus from "The Big Lebowski," which didn't surprise me. What did surprise me was the fact that you said you have an entire film in your mind that you'd like to do someday. Is that true? You've already got the whole thing mapped out?
I do have a whole film in my mind but I would have to get Joel and Ethan to write it and they don't want to do it. But maybe they'd let me write it and they could edit it. I'll see. Eventually, before I get too old, I may. I have an idea. And someone would give me the money like that to do it.
How is it possible that you haven't made a movie with the Coens in ten years?
I'm sure there'll be something eventually. What people don't realize is they were my executive producers on "Romance and Cigarettes." They helped me get the money, they helped me cast it, they helped me edit it, and then when I lost my distributor, they helped me re-edit it a little bit. So we did work together again on that. And I'm going to do these three one act plays I'm going to direct on Broadway and Ethan's is one of them: Woody Allen, Elaine May, and Ethan Coen. Three one acts and I'm the lion tamer. [laughs] That's a group for you. So I'm working with Ethan again.
But listen, sometimes they've done other things that don't have a role for me. If they had a part for me, they would tell me. But whenever I do a film, I show it to them. That's how life is. I've worked with lots of directors that I wish I would have done one more film with.
Who's in that category?
Francesco Rosi, Redford, Alison Anders, Tom DiCillo. There's plenty of people I worked with where I go, "Wow, we had a good relationship." This guy Nicolas Winding Refn, who just won Best Director at Cannes, I did a movie with him called "Fear X" which was a good movie but we didn't have enough money to finish it. It wasn't anybody's fault and I liked working with him. He's a good director. The movie we did was very subtle and it was a hard movie but the first part of it's really good. We just didn't have enough financing.
Do you want to see a movie about The Jesus? Tell us in the comments below or on Facebook and Twitter!