"John Carpenter's The Ward," Reviewed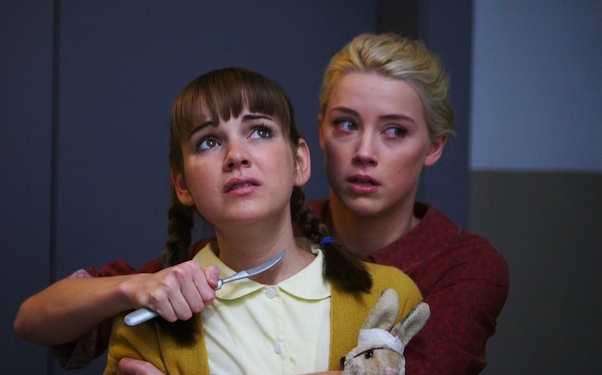 Posted by Matt Singer on
Somewhere in the bowels of North Bend Psychiatric Hopsital lurks a monster. It might be a ghost. It could be someone pretending to be a ghost. Or it might be a red herring meant to disguise one of the most ridiculous plot twists in the horror movie handbook. Whatever it is, that monster is haunting "John Carpenter's The Ward," the first theatrical horror film from the one of the genre's unquestioned in a decade. It is not one of his finest pieces of work.
Amber Heard stars as Kristen, the newest resident of North Bend's restricted ward. The rest of the girls — Emily (Mamie Gummer), Sarah (Danielle Panabaker), Laura-Leigh (Zoey), and Iris (Lyndsy Fonseca) — don't like her. The doctor ("Mad Men"'s Jared Harris) is creepy. And, oh yeah, at night or when the lights go out, Kristen sees a terrifying ghost girl, wandering the halls, stealing her blankets, or trying to kill her.
This, I think, is a fascinating set-up for a horror movie: a ghost stalks the inmates of a mental institution, who are incapable of convincing anyone they're being haunted because their doctors are convinced they're crazy. Unfortunately, that is not the set-up for this horror movie. That sort of complexity would require a ward that could believably function as a real working hospital, with a concerned if skeptical staff of health care professionals. Alas, the tightly (and kookily) structured plot mechanics of "The Ward"'s screenplay by Michael and Shawn Rasmussen demand a hospital filled with the sort of sneering, snarling baddies who practically smack their lips with anticipation when it's time to electroshock someone.
Until its crazypants and borderline hilarious finale, "The Ward" is basically a run-of-the-mill gotcha-slasher in a mental hospital: mysterious killer, beautiful young victims, spooky surroundings, jump scares, final girl. It's the work of a technician, not a craftsman; functional but not inspired (and while she can get out of a straitjacket faster than Houdini, Amber Heard's no Kurt Russell, either). At this point in his career, Carpenter is like The Rolling Stones at this point in theirs: living legends subsisting on their greatest hits and occasionally releasing albums of new music as an excuse to keep touring the oldies. "The Ward" is sort of John Carpenter's "Voodoo Lounge:" serviceable but forgettable.
"John Carpenter's The Ward" is now available on VOD. It opens in limited release on July 8. If you see it, we want your take. Leave us feedback in the comments below or on Twitter or Facebook!