John C. Reilly talks about "Terri"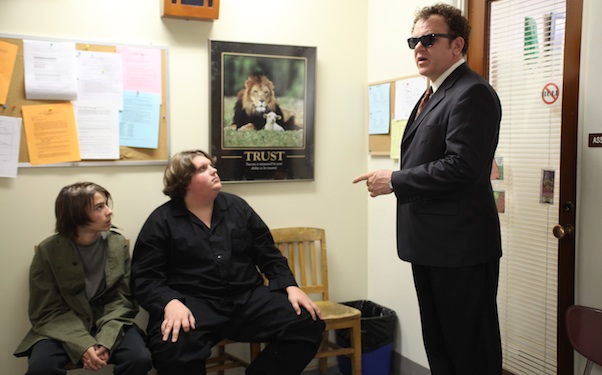 Posted by Matt Singer on
My fantasy football team is named The Catalina Wine Mixer. Last year my annual New Year's Eve party was "Step Brothers"-themed. In other words, I'm a pretty big fan of actor John C. Reilly's work, particularly when he gets to flex his comedic muscles. So I was pretty excited to talk to Reilly about his new movie "Terri," directed by "Momma's Man" filmmaker Azazel Jacobs. The movie, which opens this Friday, is a low-key story about a troubled teenager (Jacob Wysocki) and the relationship he forms with the kind high school vice principal (Reilly) who takes an interest in his case. "Terri"'s warts-and-all depiction of the insanity of adolescence (and of life in general) is both funny and shocking, a refreshing change-of-pace for the coming-of-age genre, which produces so many boring, blandly nostalgic movies.
As an admirer of his work, I've spent a lot of time ruminating on Reilly's comedic charms. His secret weapon, I think, is his unique mixture of casualness and sincerity. On screen, Reilly never looks like he's trying to be funny, and he always looks like he means it, even if he's playing a guy who needs the concept of marijuana explained to him. During our conversation, I asked Reilly about his own high school career, his recent string of excellent work, and his experiences on the set of "Fight For Your Right (Revisited)," the amazing short film by the Beastie Boys (Reilly plays the Mike D of the future). Oh, and for the gushy, fanboy portion of the interview where I bugged Reilly about the possibility of a "Step Brothers 2," go here. Can you blame me for my excitement? It's the effin' Catalina Wine Mixer.
What sort of student were you in high school?
I was a solid C student because I was doing so many plays. I was a drama nerd, but I was also kind of a Zelig-like character; I would shift between different groups of people. But the people I spent most of my time with were either chorus or swing choir or the drama nerds.
So for this film, your wife [Alison Dickey, one of "Terri"'s producers] actually gave you the screenplay?
Well first she gave me the manuscript, because this was going to be a book by Patrick Dewitt. And then he skipped the book and went from manuscript to script. But yeah, my wife has really good taste.
It's a good thing you liked it.
Yeah, it is. I mean, I could have said no. It wouldn't have been an issue. But we bounce a lot of stuff off each other anyway. And, yeah, she gave me the manuscript and that was really cool because you get a lot more detail in a manuscript than you get in a script. So we already knew the world and the layers of these characters through that. And then they wrote a script, and we did a reading, and it went great. And here we are.
I've seen a few movies lately with similar subject matter, but I thought the approach and also the tone of "Terri" was very different. I don't want to say it's dark but more… I've been searching for the word, but maybe "mature?" It's not quite so wistful and nostalgic.
No, I don't think it's nostalgic. I don't think Aza [Jacobs] really pushes any kind of agenda, either, as to what he thinks those years are about. There's a lot of stereotypes and myths about outsider stories and a lot of times they're told from the point-of-view of an adult. This movie really feels more immersive, like this is what it's really like, for this kid anyway. And that's really Aza. I think in the hands of another director it could have been very run of the mill, or it would have felt very much like other coming-of-age high school stories. But Aza's the real deal. He made this a personal movie even though he didn't write it, unlike his last film, "Momma's Man," which is very personal.
It just seems like so many teen movies are a little soft. This one has a a little bit of a harder edge to it, particularly that ending.
Yeah, well it's got that hair-raising shed scene. I think everyone's got at least one of those moments in their past.
Oh absolutely.
Where suddenly you're hormonally in the right place and you've been left unsupervised and start to do risky things. That's another example of how honest the movie is. It would have been a lot easier to get the movie made if we'd toned some of those things down. But it didn't feel truthful to turn it down. These things happen. And worse.
Aza is a guy I've seen grouped in with that whole mumblecore group of filmmakers. You've worked with him now and you also worked with the Duplass Brothers on "Cyrus." I'm wondering if you can compare their directorial styles for me.
To me, anyone that embraces the term "mumblecore" — I think it's a diminutive way of encapsulating a group of people. What I've noticed from these people is that they're all of a certain age, say in their late 20s to early 30s, they make films that are tired of cliched stories. [They] have come up through popular culture in their youth, being fed a lot of prepackaged stereotypical stories where you can guess the ending. So there's a sophistication to what they want out of storytelling, and there's a drive to be honest with their audience about what life is really like. Joe Swanberg and Mark and Jay Duplass and Aza do share that.
But with any group of artists, it's never the artists themselves that group themselves together. Especially directors; they operate in this kind of vacuum of their own design. I guess the only similarity I can think of between Aza and Mark and Jay would have to be a real rigorous commitment to honesty from moment to moment. Like, "Does that feel true? Are we just trying to sell a bill of goods here? Is that really how I would react if I was in that situation?" And there's patience; they also have the patience it takes to get that done.
You've done a lot of great little movies, all in a row. You've got "Terri" and "Cyrus," you were terrific in "Cedar Rapids," and you've got the movie that just played at Cannes ["We Need to Talk About Kevin"] coming out soon. Is it a conscious decision to, in basketball terms, go small?
[laughs] Yeah, so I did the triangle offense for a while.
I'm sorry, I've been watching a lot of the NBA playoffs.
I've just been posted up so many times that I decided to go small and try to collapse the defense. No I just try to do good movies. To me, it doesn't make any sense to pick your work based on the size of the budget of the movie. I think that's why a lot of people get well-known for something and they feel like "Well, now I'm a big movie star. So now I can only work on big productions with a lot of money." Sometimes there's good scripts that come along that have big budgets that you can do good work in but if you limit yourself to that scale eventually there's going to be nothing great coming along. So you end up in mediocre things. So yeah I'm just looking for inspired people and good writing and whatever package that comes in, I'm open to.
You were also in what I've already decided is the best film of 2011, which is "Fight For Your Right (Revisited)."
Really?
Yes. That is a powerful piece of cinematic art. I'm just wondering what that shoot was like and whether there was a script at all or you guys just completely improvised your part.
No, there was a script. And then we goofed around with it a little.
[laughs] Just a little.
But it was mostly scripted what we did, yeah. I mean the pee fight was in the script —
Carefully choreographed, shot-by-shot, and storyboarded?
Well you'd have to ask Nathanial Hörnblowér that.
[laughs]


It was pretty exciting. It was like the "Cannonball Run" of the 2000s. I mean how many people? 70 well-known actors in 30 minutes? That's like more than two actors per minute.
Yeah. And you sparked the pee fight too. You were the instigator. You will always have that on your resume.
Well Mike D is known for being someone who takes it to the next level. I'm actually really close friends with Mike and it was a true honor and pretty hilarious to get to…
…to pee on Elijah Wood?
It's amazing how easy it is to make yourself look like Mike D, too. Seth doesn't look anything like Mike, I don't look anything like Mike, but you put that necklace on and the hat and the sunglasses and all of a sudden you're like: "I kinda look like Mike D!"
It was pretty intimidating though, having those guys around. Cause even though we're kind of goofing on them and stuff, part of you wanted to…
You had to be cool, too.
Yeah, you wanted them to feel like "Yeah, that's right, you got it." Which is preposterous. I mean what Will was doing as Ad-Rock, it was like "What?"

[As Will Ferrell, doing Ad-Rock] "We bring a super fresh dance contest from the future!"
[As Will Ferrell, doing Ad-Rock] "Old school, beat box shit!"
Will can make swearing so funny. I swear and it comes off a little angry, no matter how funny I'm trying to do it. If I use certain words with a certain intensity, it's like 'Whoa whoa whoa, buddy buddy!" Will does it and it's almost like the more intense and more angry he gets the funnier it is somehow.