"Step Brothers 2" and "Tim and Eric" Updates From John C. Reilly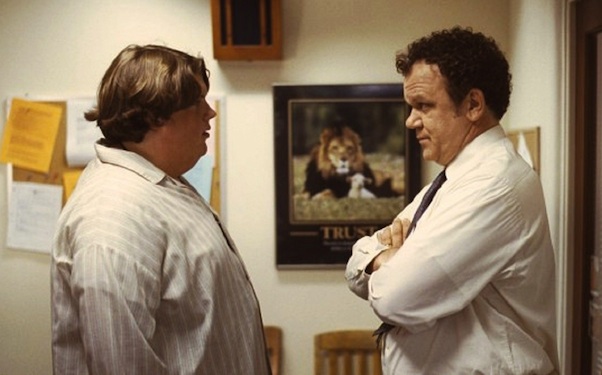 Posted by Matt Singer on
It blows my mind that we got even one movie as wonderfully insane as "Step Brothers." But now it looks like there's actually a chance we might get a second film about immortal man-children and Chewbacca mask enthusiasts Brennan Huff (Will Ferrell) and Dale Doback (John C. Reilly). Incredible.
Yesterday, I spoke with John C. Reilly about his terrific new film "Terri," which opens in limited release on July 1. At the end of our interview (which we'll post a little closer to "Terri"'s release), Reilly and I were talking about his role in the Beastie Boys' epic "Fight For Your Right (Revisited)" video, which led into a conversation about Will Ferrell and his incredible gift for making profanity sound funny. At that point, as a die-hard "Step Brothers" fan (I've hosted "Step Brothers"-themed New Year's Eve parties, for God's sake) I had no choice but to ask Reilly about the rumors I'd recently read that he and Ferrell had begun discussing the possibility of a "Step Brothers 2." Right as they were pulling me out of the room, I also snuck in a quick question about the eagerly anticipated (and definitely happening, since it's already being shot) "Tim and Eric's Billion Dollar Movie." Here what went down:
Speaking of Will, when he was promoting "Everything Must Go" last month he mentioned that you guys had been talking about making "Step Brothers 2." Are there any developments? When you're "talking about" it, is that just "Should we do it?" "Yes, okay, let's do it?"

It's more than that. It was that for a while and now we're moving in the direction of trying to get it actually made. There's a lot of people who like that movie, it's a really beloved story. And I think there's some more gold in them hills, but no one wants to make a lame sequel. There's nothing worse than a beloved movie of yours being sold out. So we're trying to be as careful as we can be.

You know the studio was saying they wanted us to do it for a long time. And for a long time we were kind of like "Nah, we're not just going to do that because you want to make money on it." But then the more we thought about it — you know why? and we came up with a couple of great ideas recently that seem to make sense for where those guys would end up in a sequel.

So there's sort of a plan in place for what the sequel would be like?

Well, just in the same way as when we wrote the first one, spitballing ideas and remembering stories from our pasts. So, yeah, it's at the spitballing stage, I guess.

All right, well I'm looking forward to it. As someone who named his fantasy football team The Catalina Wine Mixer, I hope it happens.

[laughs]

Have you shot your stuff for the "Tim and Eric" movie yet?



Yeah.

Is it all sketches or is there a narrative?

Oh there's a real narrative. It's incredibly, um…

Incredibly narrative driven?

Well, it's surprising. If you look at Tim and Eric's show, one of the wonderful things about them was how absurd the right and left turns are; one piece to another. But yeah, this has a story. An absurd story.
I don't know what I can do to help ensure "Step Brothers 2" happens. But whatever it takes — buying a few dozen copies of the "Step Brothers" DVDs and Blu-rays, knocking on wood until my knuckles bleed, drinking a crapload of wine from Catalina — I will do it.
How badly do you want to see "Step Brothers 2?" Tell us in the comments below or on Facebook and Twitter!