James Franco On His Album And Nakedly Putting Himself Into His Art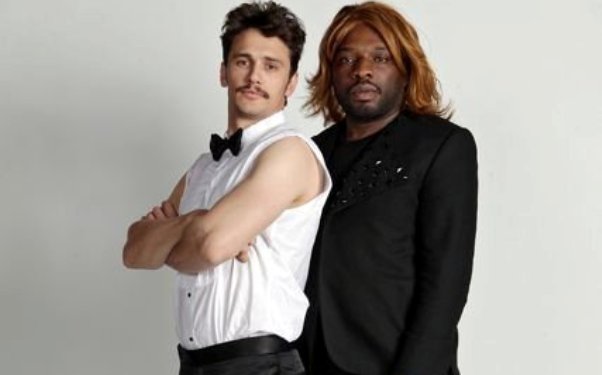 Posted by Brandon Kim on
James Franco is not content just acting in half a dozen films a year, portraying a serial killer on "General Hospital," writing books and having art shows, all while getting his PHD at Yale — he's also ventured into music with performance artist pal, Kalup Linzy.
The two met at an art exhibition in 2009, in Miami, where Franco was struck by what Linzy was doing. The prolific actor told the Guardian that he "had one of those moments where you see art or read a book and it strikes you as a spirit that's akin to yours." Franco got Linzy a cameo on "General Hospital," and the two have since been collaborating on a bunch of admirably weird things they describe on their facebook page as a place "where dreams, art, music, films, soap operas, real life, and performance art collide."
"[Linzy] has given me a lot of confidence, showing me how you can boldly and nakedly put yourself into your work," Franco said of his musical collaborator. The duo drop their EP "Turn It Up" produced by DJ/rupture, July 12th on Dutty Artz. There have been a bunch of videos of these two floating around doing their thing, including one (below) of Kalup and Franco performing a big band version of CCR's "Proud Mary."
And here's a clip of these two soulmates doing a song called "Broken," featuring Linzy crooning, It's Broken / It's bleeding / It's fallen, while underneath it Franco does this tortured/hilarious spoken word thing, This pain in me has arrested me / You don't need love, Making fun of me, Making fun of me.

"Broken" by Kalup and Franco
Kalup and Franco, genius or jokers? Tell us your take in the comments below or on Twitteror Facebook!