Swords, Battering Rams and Axes Collide in This "Ironclad" Exclusive Clip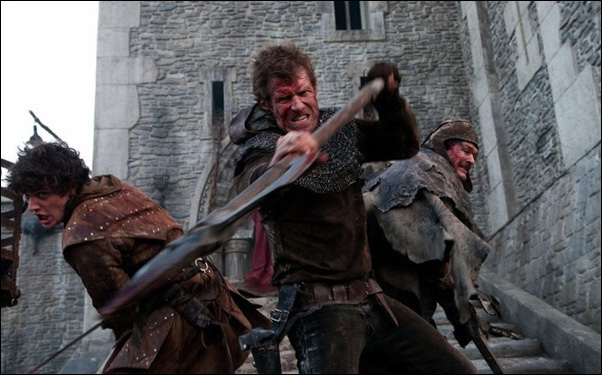 Posted by Stephen Saito on
In a summer of superheroes and silly bachelors and bachelorettes, it's about time things got a little medieval. Which they most definitely do in "Ironclad," an epic action flick set in the time of the Knights Templars starring Paul Giamatti as the tempestuous King John, who reneges on his signing of the Magna Carta promising freedom to all men. In return, he must suffer the uprising of his subjects, led by a steely James Purefoy, who take vengeance by invading his castle and claiming it as their own.
However, in this exclusive clip from the film, Purefoy's swordsman Marshall can only watch as King John's men ram through the castle gates, leading to a mighty scrum where axes are drawn, limbs are severed and even Kate Mara's Lady Isabel gets in a few good body blows while wielding a mallet. As for the deliciously scenery-chewing Giamatti and an esteemed cast including Brian Cox, Derek Jacobi and Charles Dance putting on the chainmail, you'll just have to see "Ironclad" when it premieres on VOD on June 8th or when it hits theaters a month later on July 8th.
Are you ready for some medieval action with "Ironclad"? Let us know in the comments below or on Twitter or Facebook.