Interview: Jenova Chen and Kellee Santiago discuss "Journey" as it ventures into beta today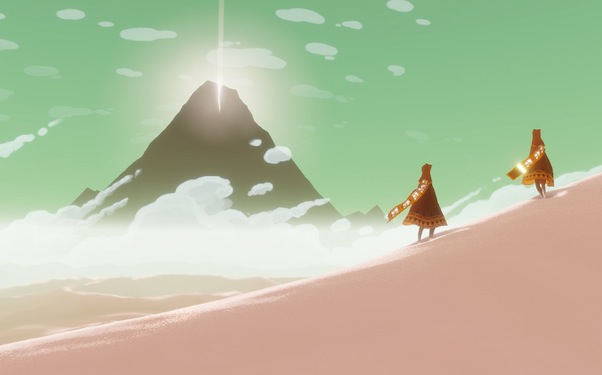 Posted by Evan Narcisse on
How would you act if you came upon an unfamiliar face in foreign lands? What if you couldn't talk to them and neither person knew who the other was? Would you help them? Walk away?
Indie dev studio thatgamecompany poses these questions in "Journey," an experimental game due out for the PlayStation 3 later this year. TGC remains best known for their moving 2008 release "Flower" and fans of their work have eagerly been awaiting the studio's take on multiplayer game design. In "Journey," players wander a series of sandy, craggy abandoned landscapes as mute avatars wrapped in flowing robes. With no spoken dialogue and no text, you'll only have movement and distance as means to communicate with others. The game will throw challenges–windstorms, creatures, slippery summits to climb–in your way, all of which are better tackled with companions. But, the gameworld won't be a bustling virtual city like the New Marais of "Infamous 2." No, you'll go miles walking through the desert sands of "Journey" before encountering someone. That way– unlike other games where there are partners aplenty–it actually means something.
Sony's launching a limited beta of the game today on the PlayStation Network, to help test out how the groundbreaking title will function once it's out in the wild.
"Journey" makes everyone a stranger. It takes away the chatter and other customization identifiers common to online games to try and get at truths about human interaction. I spoke with TGC's Jenova Chen and Kellee Santiago about "Journey" and what they hope players experience in the game.
Jenova, I saw your talk at IndieCade where you and Robin Hunicke ran through various early prototypes of the game, and it was fascinating to watch how "Journey" has developed from those initial stages. What would you say is the kind of emotional vector that you're aiming at with "Journey"?
Jenova Chen: It was a lot easier for "Flower" because it is a single-player experience. With "Journey," we created an emotional arc for two different scenarios. So, if you play alone, it's a good game. You have what we think is a complete emotional arc. You will feel, I guess, a sense of transformation in the single-player. Because it's a hero's journey.
But, if you play multiplayer, there is a different feeling we are trying to accomplish. It's hard to describe. We had an experience even in the earliest prototype. It's those moments where you know that the thing on the screen was just a dot, just a vessel. It doesn't have any body language and can't really emote. But there are moments where you understand that person controlling it completely. That's magical to me.
You mean when you come upon somebody and even the fact that you can't read anything or hear anything, you feel like there is a moment of connection?
Jenova: Uh-huh. And that's one thing I really enjoy. You certainly hope that there are more moments like this. As the density of players increases, so will the frequency of encounters and we might hear of these moments happening more.
The other thing we had in mind is just changing the impression of online play now. the impression that, if you think about playing with a stranger online right now, there's some kids, you just don't really want to play with them. And also, most of the games are competitive. And even, let's say, "Left 4 Dead," where it's co-operative team play, people do bad stuff.
Kellee Santiago: It's super-stressful.
Jenova: Because you have a gun in your hands. If everybody only had a medical patch, it would be different. So I hope that after people play "Journey," if the game can make you have a better faith or belief or trust with online strangers, that would be a great accomplishment.
That's a very lofty goal. But it's interesting because you can't communicate with other people in the game. So, if they're annoying you, you only have one option, which is to walk away from them and hope they don't follow.

Jenova: Or press pause.
Or press pause. Yeah, yeah.
Kellee: You can communicate. I mean what you just described, in "Journey," is someone communicating to you that they don't respect you and they really don't want to spend time with you. So, the way you communicate is through your actions by walking towards someone, calling to them softly, trying to help them complete something. You communicate that you're willing to play with them, just the same way that kids communicate on a playground before they really know how to talk to each other. I think that's very important.