Interesting Talk About Boring Movies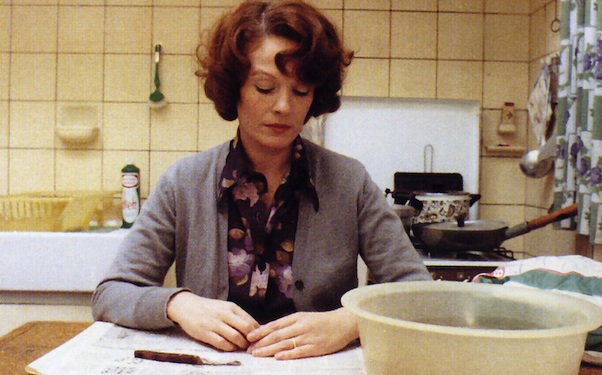 Posted by Matt Singer on
You might remember Dan Kois' notorious piece in The New York Times Magazine about "cultural vegetables," in which the author admitted to suffering "a kind of culture fatigue" when dealing with movies he found slow, or deliberate, or flat-out boring. I wrote my own response at the time; now, Times critics Manohla Dargis and A.O. Scott have weighed in with their own piece entitled "In Defense of Slow and Boring." CRITIC FIGHT! (Say it like Cartman from "South Park.")
As their title suggests, Dargis and Scott do not side with Kois on the issue of cultural vegetables. Dargis connects his use of the word "boring" with her use of the word "thinking," as in any movie that requires you to think a little, that doesn't deaden your senses into submission with an assault of noise and light, is labeled as boring. Here is more:
"So, is boring bad? Is thinking? In Chantal Akerman's 1975 film 'Jeanne Dielman, 23 Quai du Commerce, 1080 Bruxelles' there is a scene in which the title character, a housewife who turns tricks in her fastidiously neat home, makes a meatloaf in real time. It's a tedious task that as neither a fan of meatloaf or cooking, I find difficult to watch. Which is the point: During the film's 201 minutes Ms. Akerman puts you in that tomb of a home with Jeanne, makes you hear the wet squish-squish of the meat between her fingers, makes you feel the tedium of a colorless existence that you can't literally share but become intimate with (you endure, like Jeanne) until the film's punctuating shock of violence. It makes you think."
This is not far from the argument I made in my own piece on cultural vegetables; while acknowledging that some deliberate films are tedious, I noted that in the worthwhile ones, form follows function. A quick cut montage of Jeanne Dielman making meatloaf set to the sound of Donna Summers' "She Works Hard For the Money" might be entertaining (get on it, YouTube!), but it wouldn't allow you to experience the soul-deadening desperation of the protagonist in the same way as that a lengthy real-time depiction of the meatloaf cooking.
Scott spends a lot of his section responding to critic Richard Schickel's review of "The Tree of Life" (which, while far from mainstream, is hardly a cultural vegetable in my opinion; too many viscerally exciting visuals. Also, dinosaurs). But his conclusion raises an interesting question about the issue of cultural vegetables:
"Why is it, though, that 'serious' is a bad word in cultural conversations, or at least in discussions of film? Why is thinking about a movie an activity to be avoided, and a movie that seems to require thinking a source of suspicion? It seems unlikely, to say the least, that films like 'Uncle Boonmee,' 'Meek's Cutoff,' 'The Tree of Life' or Jean-Luc Godard's recently and belatedly opened 'Film Socialisme' will threaten the hegemony of the blockbusters, so why is so much energy expended in defending the prerogatives of entertainment from the supposed threat of seriousness? …I would like to think there is room in the cinematic diet for various flavors, including some that may seem, on first encounter, unfamiliar or even unpleasant.
On the one hand, I can understand the point of view of someone who reads Scott's piece and is confused by his love of unpleasantness in cinema. After all, we judge most movies, even many smarter ones, by gauging their pleasantness: the cleverness of their dialogue, the rapidity of their pacing, the intensity of their scares or thrills. A movie that lacks those things is typically described as unsuccessful, so it sounds a little weird on the surface to recommend a movie on the basis that nothing happens and what little does happens, happens really slowly.
Scott's question reminds me of issues I heard discussed during George W. Bush's presidency, and the question of why many modern Americans seem to dismiss or even distrust intellectuals while preferring political leaders who position themselves as "average Joes" (here's an example of the sort of article I'm talking about). Perhaps the two are connected. Maybe we distrust intellectual movies in the same way. Maybe dumb Hollywood entertainment feels more American somehow.
Or maybe there's a much less nefarious conspiracy at work. Maybe it's just a matter of brain chemistry. On a daily basis, we're being more and more deeply conditioned to expect instant gratification. No need to watch three minutes of commercials during your favorite TV show; your DVR box will fast-forward through them. No need to watch the highlights of the NBA playoffs when you get home from a date; you can watch or listen to the game right on your phone (the date might not go so well, but some things are more important than romance). Some people I know are incapable of going to the bathroom without using the four or five free seconds of privacy to check their email. It's not even a choice at this point for a lot of people. It's a reflex. In a world so heavily committed to instant gratification a movie like Andy Warhol's "Empire" — an eight hour shot of the Empire State Building — isn't just a tough sell; it's an impossible one. "Eight hours straight? Without checking my cell phone?"
To those that feel that way, let me suggest something: try it once. As my impossibly patient wife can attest, I'm on my own phone way too much (in my defense, I'm doing really well in fantasy baseball this year). Sometimes it can feel like an addiction: I have to stay connected, I need to make sure I don't have any new emails. So I view cultural vegetables at a welcome escape from the intensity and insistence of modern technology. I look forward to turning off my cell phone and disconnecting myself from the grid, losing myself for a few hours and thinking about something other than when I can next check Twitter. In that way, these movies really can be cultural vegetables: something genuinely nourishing.
What's your favorite "cultural vegetable?" Tell us in the comments below or on Twitter and Facebook!