Insert Credit: "Shadows of the Damned"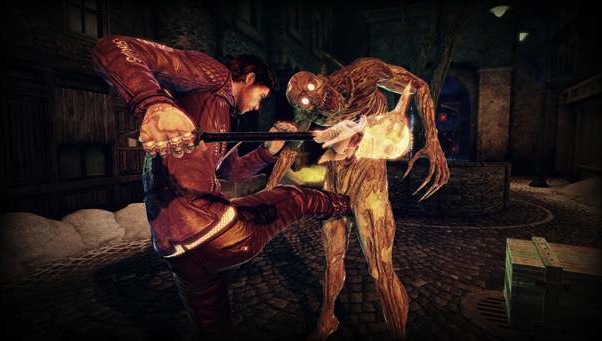 Posted by Evan Narcisse on
Insert Credit endeavors to suss out where you should be allotting your video game allowance, sifting out a single title from many and crowning it as The One Game You Need to Get This Week. Don't consider these reviews, gentle reader. Rather, think of Insert Credit as a mix of hands-on time, informed opinion and intuition.
For the week of June 24, 2011, you should insert credit into: " Shadows of the Damned."
No game designer working today channels the inner landscape of a 12-year-old better than Goichi Suda, better known as Suda51. The Japanese creator first came to Westerners attention with "Killer 7," a Capcom game initially made for the Nintendo GameCube. All of the playable characters in the cartoony, gore-soaked action thriller could've sprung from a sixth-grader's subconscious — a black guy with a Mohawk, a caped luchadore and a comely young girl who reveals secrets with blood that showers from cutting her own wrists. There was also a mechanic where blood was the economy of the game with thin blood restoring health and thick blood used for upgrades. While some of it sounds like it could've been cooked up in after-school detention, "Killer 7" bore a psychological twist that showed a deeper understanding of narrative expectations than the rest of the game would have you believe.
Then came "No More Heroes," whose central character Travis Touchdown embodies the slacker-geek lifestyle probably shared by those the game was aimed at. He buys a bootleg lightsaber called a beam katana off the internet and proceeds to make a run at becoming the number one assassin in the world. But, he's living in a motel room filled with action figures and other nerd tchotckes and must take on odd jobs like mowing the lawn to keep cash in his pocket. You saved games in "NMH" by sitting on the toilet. And, oh yeah, his big super moves in the game are pro wrestling power slams.
For his newest game, Suda's inner prepubescent boy fixates on recreating a grindhouse cinema feel inside a video game. "Shadows of the Damned" brings unto us Garcia Hotspur, a trash-talking demon hunter who ventures into hell to get his kidnapped girlfriend back. "Shadows" blasts a guitar-heavy punk/metal soundtrack out of the game and Garcia himself gets covered in copious tattoos in the manner of a Lil Wayne or Wiz Khalifa. Garcia's aided by a hellborn sidekick names Johnson, who also shapeshifts into his main weapon. Johnson also changes into a torch, a motorcycle and other implements that you need. Early on, Garcia comments that Johnson is always the right tool for the job. The dick jokes keep coming (er, sorry) and it feels like Suda may have a penis-obsessed compulsion like Jonah Hill's character in "Superbad." Yes, the one who kept on drawing phalluses everywhere. Even the big bad, a Lord of Hell named
Fleming, make a tiny penis joke as he's spiriting away girlfriend Paula. And, yes, Fleming also looks like something drawn in the margins of a math notebook, with a long, sleeveless trenchcoat festooned with bones of various sizes.
The game's primarily an action shooter This is the first game that Suda's made with a significant partner, that being Shinji Mikami, the creator of the "Resident Evil" series. It's a testament to Suda's process that ""SotD" bears much of each man's sensibilities. The camera angle, resource management, enemies and level design all come from Mikami, while the snot-nosed punk ethos of the characters scream Suda. The frothy fusion results in a bizarre logic that's oddly Even when the game over-indulges in well-worn game mechanics it does so with gusto. So, even though there's tons of key pzzles where you need to figure out time and again how to open a door, the bizarre logic of it keeps you engaged. At one point, you need to feed a strawberry to a scowling baby's head that keeps an entrance locked. You get health back by drinking booze. You need to shoot goat heads to light your way.
Yet, for all the over-the-top humor and its juvenile sense of what's cool, "Shadows" isn't shallow. None of Suda's games are. The insistent childishness in Suda's games seems to come from a repurposed nostalgia, where he's trying to recreate the feelings games gave his younger self. Film and pop culture both bear a strong influence on his work, too. Travis Touchdown–the lead in "No More Heroes"–served as a callout to the "Jackass" guys. Similarly in "Shadows," the inspirations of Guillermo Del Toro, Robert Rodriguez and Quentin Tarantino mix with a heap of "Evil Dead"-era Sam Raimi, too. It's a road movie set in hell. That nostalgia for the games of old gets nakedly wound around his other obsessions with pro wrestling braggadocio, the recursiveness of nerd minutiae and gothic imagery. (He claims to have been an undertaker before entering game design.) What gamers wind up with is a litany of dick jokes with a heart beating beneath it. A paradox, maybe, but also one that's decidedly Suda.
Early in his career, Suda would only allow himself to be photographed with a lucha libre wrestling mask on. I remember hearing that he'd also do interviews with it on, too. Looking back on it, I think the mask wasn't to hide anything but to reveal his inner self. His games do that, as well. What seems like sinking to an elementary school level actually serves to elevate the otaku meme to become its own subject matter. His oeuvre says, "Hey, you know that weird stuff we all like? The wrestling trash-talk, skull rings, cheesy b-movies? Not only can we make games about that stuff, we can make games about liking that stuff." So, in that way, "Shadows of the Damned" continues the skein of gleefully adolescent yet intriguingly faceted video game experiences coming from Goichi Suda. I, for one, hope he never grows up.
Are you enjoying "Shadow of the Damned"? Let us know in the comments below or on Facebook or Twitter.