"Infamous 2" transforms user-generated content into the new fan-fiction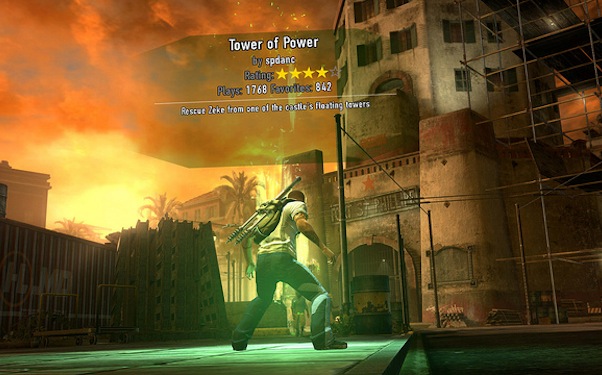 Posted by Evan Narcisse on
Cole McGrath doesn't wear a cape or tights but, make no mistake, he's a superhero. He had an origin story unfold in 2008's "Infamous," getting electrical powers after an explosion that also ruined his hometown of Empire City. The most compelling thing about "Infamous" was the symbiotic relationship had with Empire City. You got more powerful as you brought chunks of the electrical grid back online and could choose to use those powers to either help or subjugate the people who survived the disaster. There was a plot about an evil cadre led by a mysterious supervillain, but it was really the things you could do outside the scripted narrative that enchanted me.
"Infamous 2" came out two weeks ago and the sequel's opening leaves Empire City totally destroyed at the hands of the Beast, an entity of mass destruction foretold at the end of the first game. Cole heads south to New Marais, in search of ways of boosting his power to defeat the malevolent super-being. From there, the game fleshes out its conspiracy backstory, adds two female partners for Cole to choose from and offers new powers and new enemies. But, as with its predecessor, the most intriguing feature of "Infamous 2" isn't what developer Sucker Punch designed to happen.
That's because the Seattle-based dev studio's built in a toolset that lets players make their own missions. I've been playing user-generated content (UGC) missions ever since finishing the main story arc and they remind me of nothing so much as the wildly divergent fan-fiction that crops up around superhero and other genre franchises. These amateur re-imaginings have been around almost as long as comics themselves, and fanfic exists to do things with characters that the their gatekeepers can't or won't. So, it's been a place where Superman and Wonder Woman hook up, Batman finally kills the Joker or Spider-Man wins a Nobel Peace Prize. The internet's been fertile ground for fanfic, with message boards and website where writers and artists share their work. If you've ever had a passing "what if" scenario involving "Star Wars," "Star Trek" or "G.I. Joe" float through your head, rest assured a 20-part epic on the very same topic probably exists somewhere.
Games, of course are different than writing. The know-how to make a video game level is rarefied knowledge but, in the console space, Sony's been a leader in terms of giving players the means to create content and pass it along. That ethos is the raison d'etre for the "LittleBigPlanet" games and kart racer "ModNation Racers" followed in its footsteps, letting players crafts tracks and cars. In ModNation," the drivers were avatars inspired by vinyl collectibles like the Munny. The UGC in "Infamous 2" marks a departure in that the game's a hardcore action title, free of any of the cuteness that characterizes "LBP" or "MNR." Plus, "Infamous 2" is story-driven and character-driven, so players don't just get to mess around with the play mechanics; they also get to tweak the way characters get understood.
Thus, many of the thematic pillars of fanfic can found in the UGC missions. For example, several UGC missions recast Elvis-inflected sidekick Zeke and Cole as enemies. It's a classic fed-up-with-tagalong scenario, a favorite of Robin-hating Batman fans who want their tortured hero to ditch the Boy Wonder. So, in "Duel," Cole and Zeke stand at ten paces "High Noon"-style and you only get one shot to take out your former friend. Another UGC adventure tasks you with annihilating an army of Zekes, only to declare it was just "Cole's Satisfying Dream." No reason needs to be given; it's understood that he's just so much dramatic cannon fodder.
You can even find an alternate origin, too. In "How Cole REALLY Got His Powers," you need to send a depowered McGrath to the cathedral in New Marais, prompted to "Ascend to Heaven and receive God's blessing." After a quick bit of parkour, you're climbing a massive ramp and plucking a glowing globe that grants Cole the powers you know and love. He goes plummeting back to Earth with a new objective to destroy demons. The demons in this case are the swamp monster characters that already exist in the game, recontextualized to quasi-religious purpose. This mission plays so straight that I couldn't be sure if it wasn't a earnest attempt by some God-fearing gamer somehere to leave the mark of his beliefs inside "Infamous 2." That ambiguity made me love "How Cole REALLY Got His Powers" even more.
Homages to other franchises are a given when you let players build stuff in a gameworld, and creations like a "Grand Theft Auto" pastiche or a Space Invaders tribute are par for the course. Hell, one UGC mission is simply titled, "Old-School Platforming" and has you jumping from floating block to floating block with enemies shooting at you all the way. It's almost like a modern-day "Mega Man" game. These levels speak to a weird mix of nostalgia and fascination with technological iteration that's endemic to video games. Long-running franchises like "The Legend of Zelda" and "Resident Evil" always get re-invented with new hardware. The impulse to think "I wonder what Mario would look like inside Minecraft" comes as second nature, then. One UGC standout in this area was a "Metal Gear Solid" tribute called "Electric Gear Solid." Because water means painful short-circuiting and eventual death for Cole, it's left to Zeke defuse a bomb threat in the sewer. Cole has to cover Zeke from the thugs who want to take him out, but must be careful not to zap Zeke. If Zeke dies, Cole scream out "ZEEEKE!" in homage to Metal Gear's classic "Snaaaake?!"
Some of the UGC missions in "Infamous 2" are just larks, clever experiments with the game's physics that are free of the brooding of the main game. "Car Bowling" sets up enemies as tenpins and has you using Cole's electromagnetic levitation ability to hurl cars at them. And it should surprise no one up on current video game trends that there's a UGC mission called "Zombie Apocalypse." It's clever, though, with a tiered structure and a tricky, self-sacrifice denouement that makes you think you've lost.
All the UGC in "Infamous 2" harbors a remix sensibility, where familiar elements of a character's mythos get scrambled to create something new and unfamiliar, even as it lives in a space full of recognizable trappings. So, while the action takes place in New Marais, each UGC creates its own little alternate reality. It's telling that you can earn points for upgrades in these missions but what you do in them doesn't affect the karma alignment that makes you a hero or an antihero. Been playing as a saint, but really want to rack up civilian collateral damage? Go crazy in a UGC mission. It's almost a given that Sucker Punch will be creating additional downloadable content for "Infamous 2." But, as long as other users keep making playable, off-model fanfic for Cole McGrath, I don't know that I'll ever need to go back to the 'real' New Marais ever again.
If you've played any UGC missions in "Infamous 2," what are your favorites? Let us know in the comments below or on Facebook or Twitter.