Helena Bonham Carter Talks "Toast," Perfumes, and Hypnotizing Johnny Depp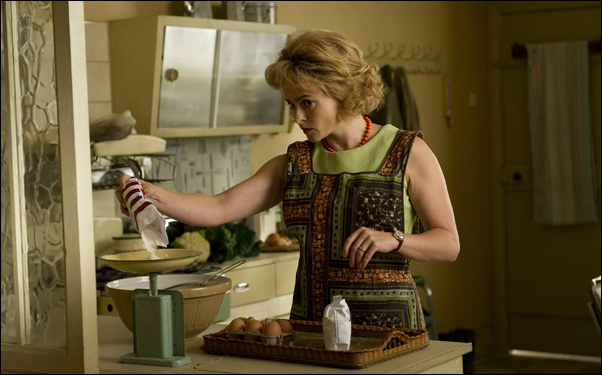 Posted by Stephen Saito on
Despite the fact that Helena Bonham Carter is currently in England filming Tim Burton's reimagining of the '60s TV series "Dark Shadows," she's sending her best to America. And she isn't alone. As the digital distributor Emerging Pictures did last fall for a selection of Australian hits that wouldn't have made it to U.S. theaters otherwise, the company is teaming up with the Film Society of Lincoln Center and the UK Film Council to bring a group of six acclaimed British films Stateside, kicking off with "Toast," a '60s set coming-of-age story based on food writer Nigel Slater's memoir with Freddie Highmore as his teen surrogate who must compete for the attention of his gruff father against a cleaning woman (Bonham Carter) whose heavenly lemon meringue pie masks the tartness she demonstrates upon becoming the boy's stepmother.
However, that's nearly the only thing about the series dubbed "From Britain With Love" that isn't sweet, considering that after a run at the Film Society of Lincoln Center's brand new Elinor Bunin Monroe Film Center in New York beginning on June 11th, "Toast" and a collection of other British gems including Peter Mullan's "NEDs" (the blackly comic Scottish delinquent comedy I heartily approve), the comedy "A Boy Called Dad," the drama "Third Star" with up-and-comer Benedict Cumberbatch ("War Horse"), the post-traumatic stress disorder character study "In Our Name," and the rambunctious soccer travelogue "Africa United" will be in theaters from Bay Harbor, Maine to Los Angeles. For the occasion, Bonham Carter got on the phone to discuss her delightful turn as the devilish Mrs. Potter and the unique distribution of "Toast," as well as her newfound appreciation for cleaning products, how perfumes are integral to finding her characters and how she's channeling a family member for her latest part.
"Toast" is taking an interesting distribution path to the States and apparently, it did in England as well. Do you like to keep tabs on your films after you're done filming?
As usual, I pray that they're just going to get seen somehow. [laughs] But this is definitely back to front because when we made it, it was a BBC film, [so] it was going to be made for television then released theatrically after and I just thought, goodness, how's that going to work? But I'm fine with it being on television because at least with television, you know you're going to get an audience, [and] I'm glad that the American audience might come to see it. I saw it being played in a cinema and it played just as well as on television, interestingly enough.
You've really shown a commitment to these smaller-scale homegrown films like this and "Sixty-Six." Has that been harder to do these days?
I'm always attracted to lower budget, not because it's lower budget, but because they tend to be better scripts. It's the scripts that tend to be the small arthouse film [that] tend to be more actor-led and character driven. Those are the stories that seem to fall within my taste range. But it's often been the case, I've done so many countless small, independent films that really 3.2 people have seen, so you never know. You do it for the joy of the part and not necessarily expect anyone to see the final product.
What drew you to "Toast"?
I was always conscious of Nigel [Slater]. I just loved the story and the character. I've played lots of queens lately — The Red Queen [in "Alice in Wonderland"] and Elizabeth in "King's Speech" — so I thought, "Oh, time to play a cleaner!" Seems a natural progression, or just to be at the other end and do something completely different. And actually, [Mrs. Potter] just seemed like such a mix and obviously somewhat mentally ill. I'm always attracted to people who've got a good level of insanity because it's fascinating to me how on earth people ended up behaving like that. And I loved [director] S.J. [Clarkson]'s vision of it, the kind of "Amelie"-esque kind of style and you just have an intuitive feeling with a character like, Oh, I feel comfortable with wanting to bring many, many different colors to her.
You actually got a sample of the real Mrs. Potter's perfume made up to get into character. How do details like that help and do you usually go to such lengths to get to the truth of who you're playing?
I usually do, actually. My son, one of his friends' mothers is a perfumer and for a few characters now, we discuss the character and she makes up a perfume. It really does help. Obviously, you can't smell it offscreen — it's not a scratch-and-sniff performance. But for me it helps because it brings a whole atmosphere. [Recently] I did "Enid" on television [a biopic of the British children's author during the '40s and '50s], which I had sort of this white powder essence and it was such a period smell of its time. Then [for "Toast"], Topaz is this really cheap 1960s perfume that Nigel's stepmom wore, which bizarrely I wore at lunch once with Nigel and he really was in shock. I could see him go pale because he just thought it was a ghost appearing, in fact it was just the smell.
I think smells like sounds can be so much immediately affecting. I tend to do a smell for each part, really. I'm playing an alcoholic now, so I'm just smelling of bourbon and cigarettes. But I could do a line of perfumes of all my characters. "Harry Potter" was just a mixture of poisonous plants – Belladonna, poison ivy, grass, a sort of wet grass – it's a horrible smell, but it really does help.
Although the real Mrs. Potter is no longer with us, was it daunting to have Nigel on set and portraying someone from his life?
Because he's a writer and has written about her, Nigel's just a fount of detail, so anything I wanted to know, like what kind of magazine or cigarette or lighter [she used], he remembered everything immaculately. Really, I was sort of channeling all the details he sent me. I knew anyway right from the start because I didn't look anything at all like the real Mrs. P, she wasn't actually called Mrs. Potter, and it's not autobiographical – this isn't a documentary. I said to Nigel, I'm [not] going to be able to play his stepmom because I didn't look like her and I was going to make different choices. It's an amalgam of Nigel's memory of her, but from a child's point of view and a somewhat biased child's point of view, [so] what I put into her [was] a seed of the real Mrs. P, but it's a drama ultimately, so you make the choices that are going to suit the drama and just try and make it more entertaining than feeling you have to be obliged to recreating the truth.
Did you get to keep the cool box prop with your name on it in the opening credits?
Yeah, I did! [laughs] Wasn't it great? I love it, particularly because if anyone knows me personally, they know domestic cleaning has never been my strong point, so it's very ironic — I thought triumphant. And the part did actually introduce me to the joys of Cillit Bang — I don't know, do you get Cillit Bang there?
No, but I've heard you sing its praises before. What is it?
The man who owns Cillit Bang, he's a multi-billionaire. I think he's the most wealthy man, practically. It's a fantastic detergent- literally, it'll clear anything. It's so satisfying because I hadn't really appreciated how therapeutic cleaning was until I was practicing as Mrs. P and using my different detergents. The cause and effect – the instant effect of the clean hall or a kitchen surface, there's just a sense of well-being. Hmm…and the smells. [laughs as she coos] It was a whole new pleasure for me, a whole new world.
You're on the set of "Dark Shadows" now, How's that been going?
It's only just started. We're gently getting into it and that's the '70s, I just suddenly thought I know this period and funny enough, the woman who made all the film for "Toast" and how to do a lemon meringue pie is doing all the food on "Dark Shadows." In fact, she taught me how to do pies on "Sweeney Todd," so Katherine Tidy is responsible for all my cooking in every single film. She was cooking the breakfast because we have a few dinner scenes in this.
I've read that your mother, who's a psychotherapist, often reads your scripts before you decide to take a role. What were her thoughts on playing a psychiatrist in "Dark Shadows"?
Well, I have other problems. [laughs] But no, I'm definitely borrowing from her, seething into the psychiatrist that I'm playing. But [the character's] got other problems. My mom being a psychotherapist, I've been brought up with that whole psychoanalytical terrain. But I'm not sure my mom will feel flattered to know that I'm basing the alcoholic psychiatrist on her, but we'll see.
Was it Dustin Hoffman who said you always end up playing some member of the family? And it is true. As I get older, I keep recognizing bits of either my mom or my aunt or my granny [in my performances]. As everyone, you do end up becoming your mother, but also as you're acting, I find out you become every member of your family, bits come out without you really wanting them to come out. My great-grandmother definitely came out of Enid [Blyton in "Enid"]. My mother said, "oh my God, this is unmistakable." We'll see with Dr. Hoffman, but it's fun being a doctor. I get to hypnotize Johnny [Depp] and do all sorts of things to him.
"Toast" will open the "From Britain With Love" series in theaters around the country between June 11th and July 9th, beginning with a run at New York's Elinor Bunin Monroe Film Center starting June 11th. A full schedule covering dates for all the films around the country can be found here.