Hands-On: iPhone Hit "Fruit Ninja" Comes To Xbox 360 Via Kinect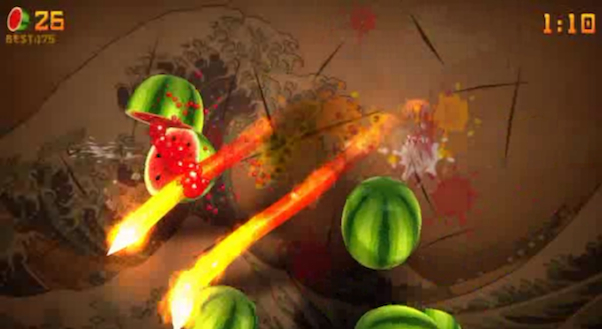 Posted by Evan Narcisse on
With millions of potential customers for games on Apple's App Store, the ones that become big hits create their own sign language. In some instances, you can get on a plane or train and scope out who's playing a game like "Angry Birds" just by their gestures. Halfbrick's "Fruit Ninja" is another one of those games, too. Lots of iOS titles have you furiously slashing at the screen to make things happen, but the particular stances for "Fruit Ninja" involve the player waiting out the bombs that pop up on screen.
And now Halfbrick, the Australian indie dev responsible for "Fruit Ninja," will be releasing a giant-size version of the game for the Xbox 360. Most of the game stays the same, but the Kinect motion-sensing peripheral kind of turns your TV into a pseudo-touchscreen. Players will use the Kinect camera to project a silhouette of them on screen and will slice up the flying produce with razor-sharp hand swipes. In the video below, you can see me go at it for a quick round.
Halfbrick's doing some clever things with the interface, too, that make "Fruit Ninja" a lot quicker to play. You won't have to do the whole hand-wave-to-check-in thing; once you step in front of the camera and slash the options you want, you're ready to play. I've been skeptical of much of the first wave of Kinect games but I played "Fruit Ninja" for a solid half-hour yesterday. They'll also have co-op and competitive multiplayer options so that you can team up or challenge your friends in fruitricidal mayhem. "Fruit Ninja" will be part of the Xbox "Summer of Arcade" promotion, which highlight a series of downloadable games each year. Look for it sometime in July.
So, all you "Fruit Ninja" iPhone addicts, will you be getting the slice-and-dice game for the Xbox 360? Let us know in the comments below or on Facebook or Twitter.