Galactic's Stanton Moore Electrifies The Soundtrack for "Infamous 2"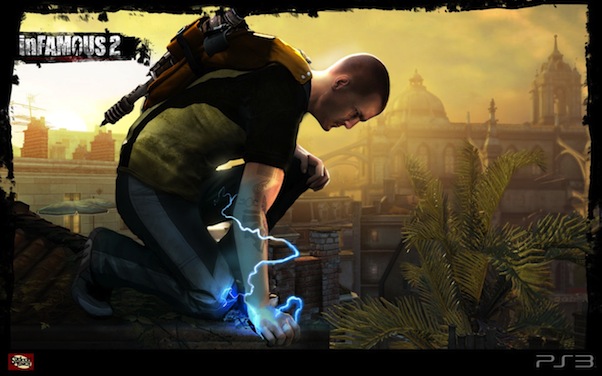 Posted by Evan Narcisse on
Sony's got a good thing going on with the musical accompaniment in their "Infamous" action franchise. The two games focus on Cole McGrath, a hapless everyman who gets electrical superpowers and battles evil in giant, open-world cities. Set in NYC analogue Empire City, 2008's "Infamous" rocked out to twitchy, bleeps-and-bass tracks by electro-DJ Amon Tobin. That game's sequel–which just came out last week–moves to the southern locale of New Marais after a massive supervillain destroys Empire City. To create a voodoo-inflected vibe for "Infamous 2," Sony and dev studio Sucker Punch enlisted Stanton Moore of genre-blending group Galactic.
The five-man collective's music incorporates funk, R&B, blues, hip-hop and jazz to create a unique sound all its own. Sucker Punch wanted to create a polyglot musical backdrop for their virtual version of New Orleans and the work of Galactic drummer Stanton Moore provides the core for that. In the interview that follows, Moore talks about creating music for "Infamous 2" and percussion instruments he used to give New Marais its bounce.
Can you talk about why your involvement in the game happened? How did you try to evoke the feeling and texture of New Orleans in the music you did for the game?
We were contacted, I believe, because the new city, New Marais, was to be based off of New Orleans. I think Jonathan and the crew felt we could add a New Orleans vibe while being experimental at the same time. With us being from there, we were able to tap into the vibe of the city and have it underlie everything that we were doing. Hearing that the city was going to be based off of a fictitious destroyed version of where we live, we knew how to convey the vibe without making it sound like traditional New Orleans music. Having played video games, we knew we could twist and alter and obscure the New Orleans vibe so that it fit in with the world of "Infamous 2."
The karma system's always been a big deal in the Infamous games, with the experience changing with how good or evil you are. This time, that system's embodied in the two partner characters Kuo and Nix. What was the approach to giving these women their own musical themes?
For Nix and Kuo, we paid attention to the qualities of the characters and what the developers wanted. We experimented and came up with a couple of different options of things that we felt sounded right. We were also given drawings, scenes and descriptions as well as the previous game. These games show an attention to detail and we definitely used all of that as a guide and as inspiration.
A lot of video game music tries to sound just like movie music, with sweeping strings for drama and thumping bass & drums for action. How did you try to avoid or rework these clichés?
We were encouraged to be really experimental, so we improvised a ton and the music and development teams used what they thought fit what they were looking for. We haven't done too much soundtrack work yet, so we weren't really tied into any clichés per se.
Galactic's music mixes funk, jazz, electronica and hip-hop, with a heavy dose of improvisation, too. Did you do multiple takes for the soundtrack work?
I'd do about two or three passes on the "brutal" kit which was made up of three toms, three floor toms and a 26-in bass drum with maybe one cymbal. On this kit, I played a lot of powerful, aggressive tribal (for lack of a better term) ideas. I'd then play two or three passes on the "bizarro" kit. I used the opportunity to set up lots of different instruments that I have been collecting over the years, too. I had some Nyhabinghi drums from Jamaica and I set up one of the bigger ones on a cradle as a bass drum. I set up several Remo Mondo snares, which have simulated calf heads. I set up a 10, 12 and 14 as a snare and toms. I also used a lot of LP micro snares and drum set timbales and used a lot of Pete Englehart percussion and bells as well. We came to affectionately call this the "Bizarro Kit". I played a lot of grooves that I have come to develop over the years but they all sounded different on this kit.
Did the ideas change radically from take to take?
I'd say yes. The takes varied a good bit from take to take and this led to lots of other ideas as well. It was a very creative process that then led to lots of grooves that I was able to use for the current Galactic record. We were recording at the same time as some of the "Infamous 2" sessions. It's been a very liberating experience and has opened up a lot of creativity in some of the things that I do in the studio now.