Exclusive Video Premiere: A Short Film About Frank Fairfield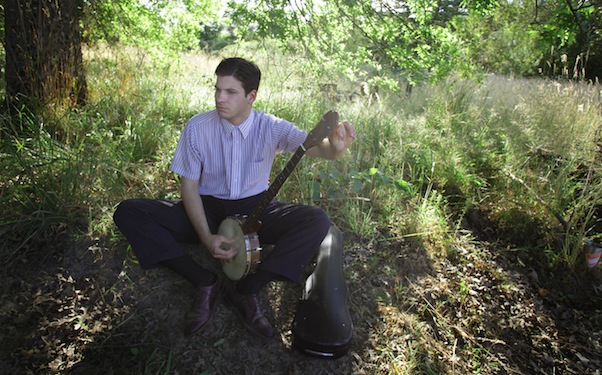 Posted by Grayson Currin on
The 25-year-old California musician Frank Fairfield has toured in support of Fleet Foxes and Cass McCombs, two bands at or near indie rock's recent crossover metastasis. But Fairfield doesn't approach the twisting folk-pop of Fleet Foxes or the elliptical escapades of Cass McCombs. Rather, Fairfield plays banjo, guitar, fiddle and, quite often, the floor with his feet as he stomps out the rhythm of American songs that sometimes date beyond the century mark. Fairfield is an old-time musician, a passionate and untiring searcher and syndicate of song. He finds his tunes on old 78s or from fellow travelers in the antediluvian world of oral tradition, and he reenergizes them with an enthusiasm and an earnestness that's very much about how these songs fit right now.
Or, as he puts it in the new short but strong documentary Frank Fairfield, "You know, this is popular music, and these are popular songs. I don't think they're old songs. They're here. They're now songs. … All there is here and now."
The 12-minute film follows Fairfield through a series of performances–street corners and flea markets, in a lonely brick hallway and on a sylvan stage at Pickathon, the Oregon music festival that appropriately began as a banjo and old-time convocation. Greg Vandy, a Seattle DJ for the influential public station KEXP, began pondering the film after Fairfield appeared on his show, The Roadhouse–"any 'boomer' definition of roots-rock turns classic-rock," he says. What's more, it fit into the work Vandy was considering for his website, American Standard Time, an archive of interviews and videos featuring some of the promising talent he brings to his shows.
"We had an in-studio session in 2009," remembers Vandy. "He's such a compelling character. There's as much to see and to be introduced to beside the audio with Frank–his personality, his persona, his intellect, his whole way of thinking is equal parts to the music he makes, which is also incredible."
Fairfield recently released his second album for Tompkins Square Records, a New York label that's become a supreme outlet for acoustic sounds old, new and–as in Fairfield's case–a little of both. Indeed, Out on the Open West finds Fairfield recanting own his early indications that he didn't consider himself much of a songwriter. Most of these songs are actually his, though he explores his own words with the same use of old forms and modern vitality he offered on his perfect 2009 debut. It's a steady and smart expansion of his catalogue, an indication of an artist that's going to develop far beyond the conduit appeal of his debut.
"It's a guy who understands what traditional music is all about. He knows all the songs, and he knows all about the interpretation of those songs. It's like what I imagine a performer from the Anthology of American Folk Music would sound like," says Vandy. "But I want to avoid the whole time-traveling thing. Frank doesn't think that way. I'm not sure he even appreciates that aspect of time."
Frank Fairfield has recently been accepted into several film festivals, including South by Southwest 2011 and the 2011 L.A. Film + Music Weekend. It will stream exclusively at IFC.COM for one week.