Five more movie nightclubs we'd like to visit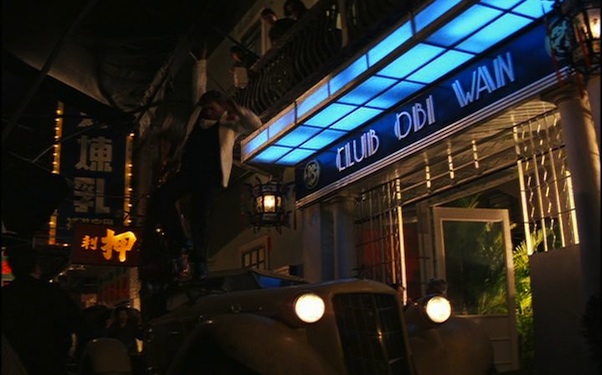 Posted by Matt Singer on
Last week, we told you about Silencio, David Lynch's new nightclub in Paris, based on a spot first featured in his 2001 film "Mulholland Drive." Our excitement over this new venue got us thinking: what other fictional nightclubs deserve to be converted to real working establishments? Fertile ground for a list, says I.
So here we go. The list is entirely subjective and based on only one rule: no real places. Since this all started with a director taking a fantasy and making it a reality, this piece had to work the same way. Picking places that really existed would be cheating. Hence you won't find 2001 Odyssey Disco from "Saturday Night Fever" below; it was an actual Brooklyn dance club (at 802 64th Street) spruced up with a little movie magic (the production brought in the signature light-up floor).
In one case, someone already has granted our wish and made one of these places. But it's in Morocco, so for the time being, it's going to remain a pipe dream. But that's fine. If reality was exotic and exciting as the worlds depicted in these movies, we wouldn't need to go to the movies in the first place. And now raise your glasses, for a toast to these great movie nightclubs.
---
Club Obi Wan
From "Indiana Jones and the Temple of Doom" (1984)
Directed by Steven Spielberg
I love that this is a movie nightclub that operates entirely on movie logic. Kate Capshaw's Willie Scott is doing her show in 1935 Shanghai, and then she steps inside that dragon's mouth and suddenly we're transported into "Gold Diggers of Indiana Jones." Dozens of tap dancers on an enormous set of stairs, all performing inside this tiny dragon head, in a space that none of the audience in the nightclub can see. Truly, this is a place where anything goes. Plus, show up on the right night at Club Obi Wan (yes, we all get the reference George Lucas, thank you) and you might get to sit at the table over from Indy himself; maybe you could invite him over and then give him something very exciting on the Lazy Susan.
---
The Silver Sandal
From "Swing Time" (1936)
Directed by George Stevens
Here's another hotspot from the 1930s, which was clearly the Golden Age of Movie Nightclubs. With America suffocating under the Great Depression, movies lured audiences with tales of decadent escapism, replete with impossibly opulent nightclubs. These places look so expensive you wonder if the star could even afford to drink there. There are a lot of super-cool 1930s movie nightclubs — "Hot Voodoo," anyone? — but if I've got to pick just one, I give the nod to The Silver Sandal from Fred Astaire and Ginger Rogers' "Swing Time." It's just so grand with that cavernous ballroom, enormous dance floor, swooping staircases, and iconic art deco design elements. Boozing it up in a tuxedo while you take in an evening's entertainment by Astaire and Rogers? There isn't a single way that's not awesome.
---
The Cell Block
From "Cocktail" (1988)
Directed by Roger Donaldson
See, this one could only exist in the movies too. The Cell Block, a jail-themed dance hall where people pay a massive cover to… stand around quietly and listen to the bartender recite poetry? Hooooookay Hollywood screenwriters, whatever you say. Of course, the guy serving the verses and vodka is none other than Tom Cruise, and let's face it: if you heard Cruise was tending bar in town, you'd show up. Plus, Cruise and Bryan Brown's mixology floor show, complete with bottle tossing, hip shaking, terrible-looking Turquoise Blue drinks, is super cool. (admit it: you've tried to copy their moves at least once. C'mon, just fess up. We all have.) Of course it takes Cruise and Brown about ten minutes to make one drink, and they seem to be the only two bartenders serving a club with hundreds of customers. Wait, why do I want to go to this place again?
---
Rick's Cafe Americain
From "Casablanca" (1942)
Directed by Michael Curtiz
Obvious? Yes. But how can I leave off the most famous gin joint in all the world?
Granted, having to share the space at the bar with Nazi officers is a major downside. But Rick's Cafe Americain is the site for one of romantic movies ever made, and everyone, man or woman, who's ever seen the film has fantasized about going there in 1942 and falling in love at the roulette wheel while Dooley Wilson's Sam sings "As Time Goes By." How many "beautiful friendships" have blossomed metaphorically at Rick's, over date nights at the local repertory house? More than I can imagine; it is one of the signature locations in all of the movies. And, hey, if you do happen to find yourself in Morocco, be sure to visit Rick's Cafe Casablanca, built in 2004 as a monument to Humphrey Bogart's joint. It's got a bar, a full menu, and, of course, a piano player. He takes requests.
---
Hot Traxx
From "Boogie Nights" (1997)
Directed by Paul Thomas Anderson
It's no 2001 Odyssey Disco, but it'll do. Plus it has porn stars. Hot Traxx is the Odyssey-esque club that serves as the setting for the amazing opening to Paul Thomas Anderson's "Boogie Nights." Maybe it's just the vibe bleeding off the endless long take that Anderson uses to capture the scene, but the place looks so freaking cool; the lighted floor, the stage, the Christmas lights hung throughout. Clearly Maurice (Luis Guzmán) has excellent taste, which is why folks like Jack Horner (Burt Reynolds) and Amber Waves (Julianne Moore) like to hang out there. And since Rollergirl (Heather Graham) can wear her skates in there, you know their dress code policy is lax. Good atmosphere, good tunes, and you could do the hustle with John C. Reilly's Reed Rothchild while Mark Wahlberg buses your dirty dishes. Sign me up.
What movie nightclub would you like to visit? Tell us in the comments below or on Twitter and Facebook!