Five Mickey Rourke Roles In Order of Scariness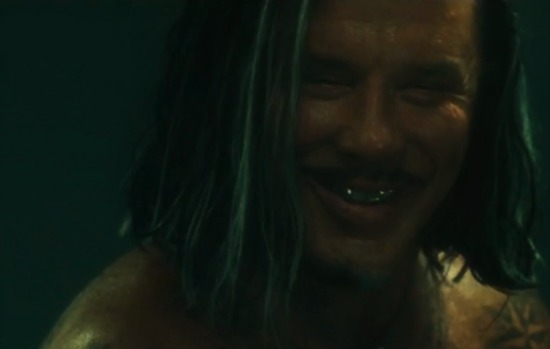 Posted by Melissa Locker on
Hey you, want to spend the afternoon with a psychopath? You will when we tell you that the psychopath in question is Mickey Rourke in "Fall Time." If you haven't seen it, the violent thriller stars David Arquette, Jason London and Jonah Blechman as high school seniors who think it would be fun to pull a harmless prank. And so it begins. As the boys are fake robbing a bank and shooting blanks, real life bad guys Florence (Mickey Rourke) and Leon (Stephen Baldwin) are pulling an actual armed robbery at the same bank. In the confusion, the boys get mixed up with the real criminals, who take the teenagers hostage. The fun really begins when Florence and Leon tell the boys they'll release them only if they pull an actual bank job. The boys grudgingly agree, but end up grabbing the girl (Sheryl Lee) instead of the cash.
Mickey Rourke is so perfectly cast as the creepy and evil Florence that we got to thinking about some of his other roles. So we made a list.
Five Mickey Rourke Roles In Order of Scariness:
5. Randy 'The Ram' Robinson in "The Wrestler." I'm not saying he's not brilliantly acted, but do you want to be stuck in an elevator with him? No you do not.
4. Teddy the Arsonist in "Body Heat." His name says it all.
3. Ivan Vanko/Whiplash in "Iron Man 2" Yes, perhaps "Iron Man 2" was not the coolest or edgiest movie ever, but Ivan Vanko is a scary scary man and when he's all dolled up as Whiplash? Don't even front that he's not completely terrifying.
2. Florence in "Fall Time" Unstable and given to sadistic tendencies, he robs banks for the money and tortures teenage boys for fun. A real delight.
1. The Husband in "The Follow". This one is a bit obscure, but Wong Kar-Wai directed a short film for a BMW ad campaign and Mickey Rourke plays an abusive stalker husband who hires Clive Owen to follow his wife.
Of course this is all just a trick question. None of Mickey Rourke's characters are nearly as scary as the man himself:
Further proof:
So, what role are we forgetting? Tell us in the comments, on Facebook, or on Twitter.
"Fall Time" airs today at 3:30 p.m. ET; Saturday, Jun. 18 at 6:05 a.m. ET; and Thursday, Jun. 30 at 6 p.m. ET