Five Leonardo DiCaprio Movies In Order Of Confusing-ness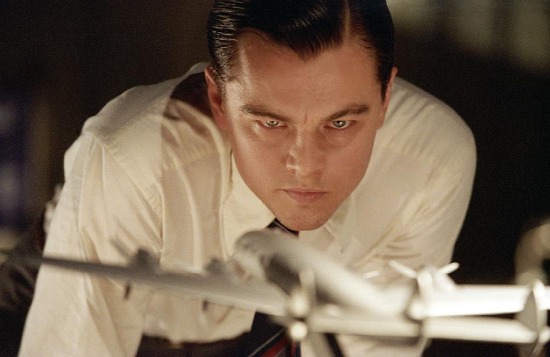 Posted by Melissa Locker on
Double your pleasure, double your fun when we air "The Aviator" at 8 p.m. ET and at 11:30 p.m. ET. The film stars Leonardo DiCaprio as Howard Hughes in this Martin Scorsese directed fast-moving, epic-scale biopic that documents the life and loves one of the most colorful Americans of the 20th century. Also, did we mention Leonardo DiCaprio? When you're done swooning and fanning yourself, read on.
"The Aviator" follows the twentysomething millionaire, Hughes, as he comes to Hollywood with stars in his eyes and an interest in getting into the picture business. His love of flying lead him to direct a World War I air epic called "Hell's Angels", which was a massive hit, turning the eccentric inventor into a mogul in Hollywood. Enter the actresses: Jean Harlow (Gwen Stefani), Katharine Hepburn (Cate Blanchett), and Ava Gardner (Kate Beckinsale). Then he went on to found his own airline, Trans-World Airlines. The film's star-studded cast also includes Alec Baldwin, Alan Alda, John C. Reilly, Jude Law, Willem Dafoe, Ian Holm, and Frances Conroy.
Scorsese and DiCaprio have worked on together on several occasions, including "The Gangs of New York," "The Departed," and, of course, "Shutter Island." The duo's work in "Shutter Island" was dynamic, but also confusing. The film is a real head-scratcher. No spoilers, but: what? This got us thinking, Leonardo DiCaprio has a knack for picking challenging roles in challenging films that challenge the audience's ability to understand what is going on. Obviously a list is in order.
Five Leonardo DiCaprio Movies in Order of Confusing-ness:
5. Titanic. What did he see in her?
4. Catch Me If You Can. What was he running from exactly? And how did he get out of that airplane bathroom again?
3. Body of Lies. Wait, who did what now and why exactly?
2. Shutter Island. Don't even pretend that you can explain this movie entirely.
1. Inception. Any movie that gets you asking, "What is real?" wins this argument
"The Aviator" airs on IFC at 8 p.m. ET and 11:30 p.m. ET and on Saturday, Jun. 11 at 8 p.m. ET and 11:30 p.m. ET