Music For Fridays: First Rate People's "Someone Else Can Make A Work Of Art"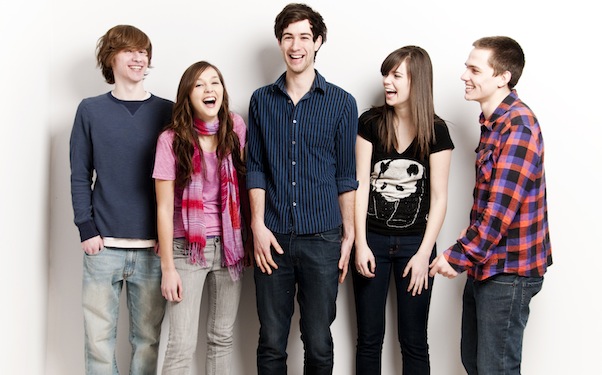 Posted by Grayson Currin on
Note: Each Friday, we'll close with a song we consider a suiting goodbye for the workweek. With each Music for Fridays post, check for a free mp3.
Early last year, the fresh-faced, co-ed Toronto outfit First Rate People self-released It's Never Not Happening, a handmade seven-track EP with a photocopied tracklist and cover art cut from a tablecloth. It sounds simple, sure, but within those seven tracks, First Rate People alternated between complex glimpses of near-adulthood sadness and sheer bursts of childlike joy. They rarely got any combination of those two just right, a quality that gave It's Never Not Happening an approachable innocence. Happening was one of my favorite debuts of last year, and I've since been waiting on the next move from the very promising People.
The follow-up doesn't fail: "Someone Else Can Make A Work of Art," released today via the band's website and available here as a free download, finally puts that sweetness and sadness into one succinct package. It's a love song tinged with regret and anxiety, a dance-pop song that spends most of its time drooping. This is the sound of First Rate People twinkling into the realties of maturity, and they've never sounded better. Here, the present feels uncertain but welcome.
A lot of people are obsessing over Cults right now, and rightly so, I suppose; but First Rate People's small sample of work seems bound to stretch beyond that of Cults. The songs are richer, the writing more suggestive, the band more reliant on layers and textures rather than production tricks. Let's hope this is still just the start.