Exclusive Video Premiere: Collections of Colonies of Bees Announce New Lineup, Album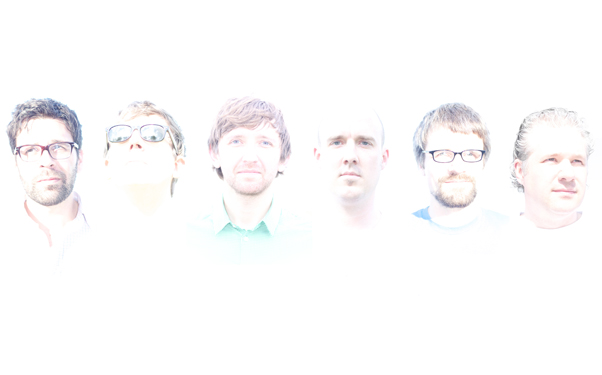 Posted by Grayson Currin on
A little more than two minutes into this live recording of "Lawn," the opening blast from the new album GIVING by Wisconsin post-rock redeemers Collections of Colonies of Bees, guitarist Chris Rosenau turns to face drummer Jon Mueller. Rosenau and Mueller founded the Bees in the late '90s, and, for a while, the band co-existed with the pair's other act, Pele. But the Bees survived and advanced, growing in size, scope and sound during the last decade to arrive at Birds, 2008's perfect marathon of crescendos and collapses, all broadcast in radiant electric tones.
When Rosenau turns to Mueller, "Lawn" enters a steady period of build, as guitars and electronics scatter around Mueller's steadily gathering beat. The lines twist and knot until, about a minute later, Mueller stares, mouth agape, at Rosenau. He pounds the drums, and the band digs in its heels behind him, launching into one of those perfect releases at which Collections have become the rarest craftsmen. Rosenau finally turns from Mueller, the smile wiped across his face perfectly reflecting the transcendent mood of the music.
Turns out, that moment's a bit of a letting-go, too: The Japanese tour during which this video of "Lawn"–the first public taste of GIVING–was the last hoorah for the iteration of Collections of Colonies of Bees seen here. Mueller is concentrating on the glorious solo work and collaborations he's done during the past few years for Table of the Elements (R.I.P.) and Type. Tom Wincek, who you see on stage right behind a stack of electronics, has moved on to lead his excellent outfit All Tiny Creatures.
So GIVING is an interesting double transition, since Collections of Colonies of Bees have never before been so concise and direct and since they'll never exactly be this band again. The new Bees hit the road later this year with a new sextet lineup, reworked GIVING tracks and 40 minutes of new material. Collections of Colonies of Bees have never not been about evolution and movement; GIVING is two big steps at once, and I'm already looking forward to the next one.
GIVING is out via Hometapes August 2, 2011. The tracklisting is below:
1: Lawn
2: Vorm
3: Lawns
4: Vorms
What bands do you love with memberships that revolve as often as COCOB? And have you heard COCOB's collaboration with Bon Iver, Volcano Choir?