Exclusive Download & Interview: Richard Buckner's new mantra, "Escape"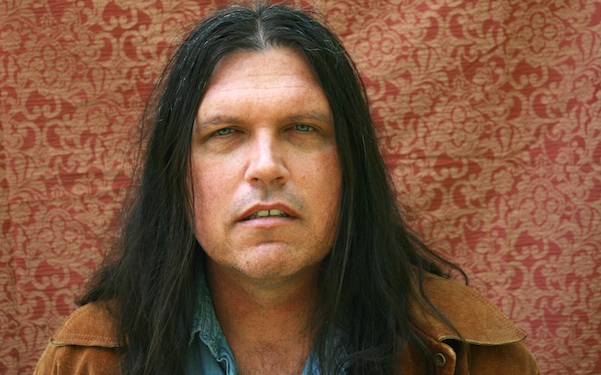 Posted by Grayson Currin on
(Download "Escape" here.)
It's been five years now since Richard Buckner made Meadow, his eighth album and second for Merge Records. On Meadow, Buckner confirmed what he'd been building for the last decade–a collection of words and images with very few modern songwriting peers, in spite of a fanbase that's generously described as cultish.
Don't blame the absence on Buckner, though. He'd actually been writing and recording in a massive grange hall he rented in upstate New York with his girlfriend. When I talked to him several years ago in that space, he loved the acoustics of the room and the fact that he could spread his gear as need be to record. Then, though, a decapitated corpse showed up in a burning truck down the street, so he and his girlfriend moved to a safer part of town. Or at least so they thought until someone broke in, stealing his girlfriend's work camera and his work laptop, which held the 10 tracks he'd just finished with Sonic Youth drummer Steve Shelley. He started again, this time with the urge of impatience at his back.
Our Blood, Buckner's third for Merge, is worth the wait. Urgent but elaborate, it's a record that finds Buckner's baritone as fluid and forceful as it's ever been, backed by arrangements that strike the perfect balance between Spartan and swollen. In fact, as a Buckner devotee, I'm willing to claim it's his best since the 1997 landmark Devotion + Doubt. What's more, the second track, "Escape," might just be the best three minutes of music he's written since that album's "Ed's Song." Informed by recent years of working tough jobs in upstate New York and by his generally peripatetic nature, it's a resilient tune for temporary escape. Download the song right here, for the first time anywhere.
Some of the textures and playing here remind me of the tour you did with Six Parts Seven. It's so well considered and intricate. Tell me about the process of putting these things together by yourself.
OCD is the main word here, for sure. The world in your head gets really small sometimes. Before I did this record, I worked on a film score for about a year and a half. One thing that I hope happens with me is that, every couple years, something changes in me, in the process, and I'm able to come into the next project with a new idea. What happened before I started these songs was that I'd worked on this film score, and at the end of this process of making this film score, suddenly I was coming in through the side door instead of the front door. The way I approached these things changed because the film score was mostly instrumental. I was focusing on a different aspect of the music. I was focusing on being more strict with melody, structure, variations on theme and where things came in and out.
So when I started this record, I was approaching it from a different angle. In my vocal performances, I was being more strict with melody, percussiveness and word choice, trying to make it fit in a different way. Doing this one–especially four times, so by the time I got to the final version–I was in a whole different place.
Given that new approach, was this a sounds-first record? Did you build from the sound to the lyrics?
This is also a different thing for me, too. Usually what I did in the past, I've made a record every three years, so about every year and a half, I would go through my notes from the previous year–little song chunks I put on a hand-held recorder, or notes I'd made. I'd collect them all, see what songs are what and put them together in a few months, and then record them. So the writing process is a big, long pre-process, and then a fairly short writing process, and then I record.
With this record, it was the first time since I came off the film score. I was actually writing as I was creating songs. Usually before I record the songs, I like to perform them on the road a bunch. Little nuances come out that you can grab onto and something changes in the music. This time I didn't get to do that. This time I was making the actual songs as I was actually making the recording live. And I don't want to do it this way again, but that's what happened with these.
It was a different way of constructing the songs. I didn't know the songs when I was recording them. In fact, I just did a little tour opening for Sebadoh, and I hired a guy to play with me. When we were learning the songs for this tour, I was learning the songs for the first time, as well as he, because I hadn't actually played them live ever. I'm still in the process of learning them. They're still new to me as opposed to songs I know and I'm just recording.
That makes sense, because this record feels very urgent, like you're singing these songs for the first time. The playing feels considered, but the singing seems so in your face.
Well, I can totally explain it. Like I said, as I was recording them and I was also writing them, so they were very new to me, like seconds old as I was putting them on the thing you're hearing now. So they were fresh in that way, but not fresh in the same way as before. If you're hearing a freshness, I'm glad you are. Of course, I can't hear it the same way you're hearing it, but what you're hearing is my forced attempt at making this record. There is a freshness to it, but it's kind of a panicked freshness. Like, I better finish this, and I better get this out of my house before I start tinkering again and they never put this record out.
"Escape" seems like a workingman's lament–let's leave and deal with the consequences later. How do you see this song in the framework of the album?
Here's the thing with this record, too. This isn't the record I intended to make, the record I intended to make was supposed to be filled with many more instrumentals. There was going to be an accompanying book with the fiction that I've been working on. There were going to be stories that were supposed to be read during the instrumentals that connected all the stories and made the whole album one series of stories that went in a certain direction.
When I lost the extra songs for my film score, they were very momentary performances, and I couldn't reproduce them in a way that I was happy with. I was living in a different place. I was recording in a different place. The sounds were different. I lost a bunch in the way of putting this record together. For me, the sequence was always what it is. I have this written out in short stories or a book of a character that goes in a certain direction. "Escape" was always meant to be the second song after "Traitor." The way the story goes, basically, is a person wakes up in a situation and realizes they have to change something, and by the end they realize maybe they changed something, but they're probably going to go back into the same world.
When things get weird, when you have these realizations about your life, I've noticed, one of the first things you think of is, "When in doubt, get out." In the last couple years, I've thought, "Fuck, I need to fucking get out of here and change. We need to get out of here and lose all the shit that's been going on in our lives." So "Traitor" is meant to be the realization, and "Escape" is meant to be the when-in-doubt-get-out, fight-or-flight response. And then you sink into a period where you sort things out, come to some conclusions, where you can actually make a positive move.
There's this line in "Escape" about making the rebellion of what you're doing known: "Without a fight, they'll never know we've won." It's almost like you have to make your presence known to the world just long enough that they'll realize you want something else.
Or that you're reacting, and the outside world is so numb and unaware of your presence that, when you make this move, it won't even be noticed. Visually, in my head with that song, I have a couple sitting at a bar, looking down at their drinks, going, "What's been going on? We've got to get out of here." It's not going to make any difference to the world, but it will make a difference to us. The couple sitting there looking at drinks and looking down at the end of the bar at the alcoholics are saying, "If we don't get out, we're going to be them. We have to change something now."
You've worked a lot of odd service or construction jobs in the past few years. Do you think your coworkers have these same thoughts and feelings, and it's simply your job to try and articulate them?
You know what I feel? I feel really fucking lucky. I worked jobs on and off, but the last couple of years, I've worked more jobs than I have in a while. It was good for me to have to do this because it was after a bunch of years of working alone in my room for years at a time and not talking to many people. My performances showed this, too; I was very unable to communicate with people because I was very closed down. When I first started working these jobs here in Upstate, I don't know what they thought of me when I first walked in. I couldn't talk to anybody. I was a big, depressed guy. I did a good job. I worked hard, but I couldn't talk to people. My basic response was not talking and being a piece-of-meat robot doing my work. Over the course of these jobs, I've slowly come out of my shell. It was good for me, in the long run, to do that and to be back in the real world.
But I also feel very, very lucky. The kind of jobs I was working at, whether they were with factory workers or union workers, most of the people I was working with were in these jobs and would be in these jobs for the rest of their lives. There was a look and feel to these people I was working with that was not hopeless, but there wasn't a light at the end of the tunnel. And me? I had a light at the end of the tunnel. I knew that, at some point, when I would go home and work on my music or my writing, it takes me out of this world. I had an opportunity to not have to work this job for 20 years. I knew it wasn't going to last forever, that it would be a year or two and I would have the opportunity to go back out and do some work with my music or writing. Most people in this world don't have an easy way to get out of these situations; they move from one hamster wheel to the next hamster wheel. I have this other life that I can go back to and take me away from that.
So, what do you think of "Escape"?