E3 2011: DJ/Artist Baiyon Trances Out with PS3 Title "Pixeljunk Lifelike"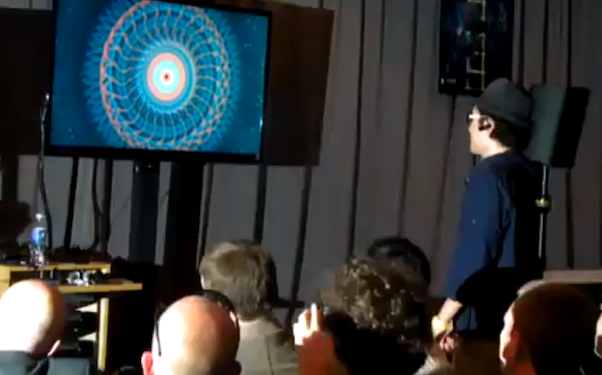 Posted by Evan Narcisse on
The Electronic Entertainment Expo's a loud, loud gathering. It'd be mean and inaccurate to say that it signifies nothing but it is nonetheless a true thing that the annual video game trade show is full of sound and fury. The big blockbuster games shown here usually get thrown up on giant screens with sound systems that would be welcome in any sports arena.
It's harder for experimental work to find a home here at E3 but that's exactly what Sony's providing for "Pixeljunk Lifelike." "Pixeljunk Lifelike" isn't a game, per se; rather, it's an interactive music creation experience driven by the PlayStation Move motion controller. In a darkened room above the din of the show floor, club DJ and visual artist Baiyon demonstrated how it works. Musically, "Pixeljunk Lifelike" is almost like a drum-and-bass theremin. Each of the four face buttons on the Move controller corresponds to a quadrant of sounds and manipulating the Move controller in 3D space either launches new fills, bends notes or tweaks tempo, depending on the user's movements. You really need to see it in action to understand how it works and I recorded the bulk of the demo to show it off.
Yeah, the video's dark but you can still see the illuminated tip of the Move wand and how the music changes sync with Baiyon's movements. It reminded me of nothing so much as a Jackson Pollock canvas, but with music as the "paint." You can also use a bluetooth headset as a vocoder for adding vocals. "Pixeljunk Lifelike" is the second collaboration between Baiyon and Dylan Cuthbert of indie dev studio Q-Games, with the first having been the awesomely trippy trance platformer "Pixeljunk Eden." After the demo, Baiyon explained that making music with "Lifelike" feels just like playing a gig in a club, in terms of correlation of physical movement to the creation of sound. The visualizer graphics come from Baiyon's own design work where he wanted to channel the look of amoebas and other single-celled organisms. Cuthbert joined Baiyon for some Q&A after the demo and said that "Lifelike " will let players broadcast their sets to other PlayStation users and that other sound packs will roll out after release. No date's set yet for the debut of "Pixeljunk Lifelike," but it'll be one of the more interesting experiences that people get to see at E3 this week.