Sick of the Multiplex? Go to the Drive-In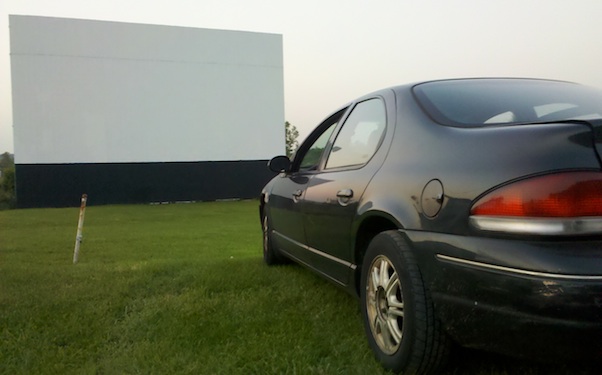 Posted by Matt Singer on
There have been a lot of articles in the press lately about bad projection and the overal poor viewing experience at multiplexes around the country. I still love going to the movies, but even I get fed up sometimes: dim movies, high prices, loud patrons on their cell phones. If you can relate, here is my suggestion:
Go to the drive-in.
Drive-in movie theaters are a legendary part of American popular culture, but for a lot of folks, that's all they are: a legend, read about or seen in old movies but never actually experienced. Though just a fraction of the drive-ins from their heyday remain, there are still hundreds operating throughout the United States and every single one I've been to has been well worth the trip. And not just as a historical curiosity.
No question: drive-ins have their downsides. In northern climes, they're only open during the summer and no matter where they're located, they are always at the mercy of the weather. The picture and sound quality of the best drive-in can't come close to the picture and sound quality of the best multiplex; the screens are usually old and the sound comes piped in through FM radio in your car stereo. But in the right setting on the right night (and with the right movies — I'd pass on "Tree of Life," drive-in style), you can't beat a cinematic evening under the stars. Here's five reasons why.
1. Two Movies For Less Than The Price Of One
Last night at the Warwick Drive-In in Warwick, NY, I saw "The Hangover Part II" and "Bridesmaids" for $8. Eight bucks wouldn't even get me one ticket at my local multiplex, where it would cost me $24 to take in the same double feature. Particularly in our current crummy economy, that is a great deal. You're basically paying rental price for a theatrical experience on a gigantic screen that dwarfs the ones at my local theater, where something like half the auditoriums seat less than 50 people.
2. A Relaxed Attitude Toward Outside Food
Speaking of saving money, drive-ins are way less intense about customers bringing in outside food than your standard theater. They've got their own snack bar, of course, but you're welcome to bring what you want (other than booze, understandably). And since nobody's sitting two and a half inches to your left, you don't have to worry about bugging them with your stinky takeout. In the mood for pizza and the movies? Go for it.
3. Your Obnoxious Neighbors Are Too Far Away To Bother You
Someone I follow on Facebook recently shared a horrifying story: instead of being disturbed by someone talking on their cell phone, they had to contend with a person in front of them watching something on their cell phone. Paid twelve bucks to see a movie, then watched something (for free) on their cell phone in the middle of the theater. There are plenty of jerks at the drive-in too, but you're insulated from their bad behavior by your car and the sound muffling effects of the great outdoors. A properly spaced drive-in is actually a fairly private public viewing experience. The hassles are at an absolute minimum.
4. You Can't Beat the Leg Room
No need to keep crossing your legs: space is your friend at the drive-in. You can move your car seat to your heart's content. Feel like reclining? Do it up. And if you don't like your car, you can always bring beach chairs or blankets and hang out in the grass.
5. Being Outside Makes Watching Movies Feel Like Exercise
Okay, maybe not. But if you've never tried it, there's nothing quite like the serene pleasure of watching a movie outside as a cool breeze blows through your hair. It's amazing. Just remember to pack some bug spray.
You can find the closest drive-in theater to where you live at Drive-Ins.com. If you go, we want to hear about it. Tell us about your experience in the comments below or on Twitter or Facebook.