Trailering: "Don't Be Afraid of the Dark"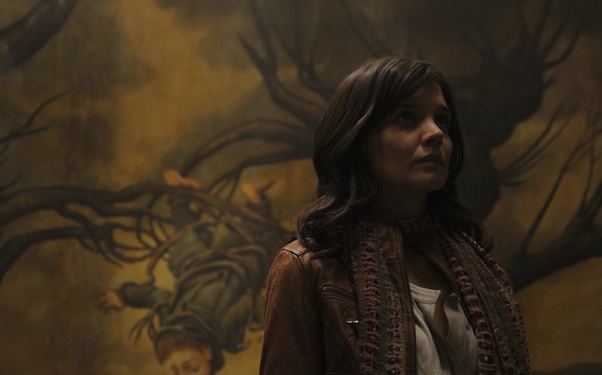 Posted by Matt Singer on
I'm of the opinion that Guy Pearce does not make nearly enough movies, especially not ones where he takes center stage. Since "The Proposition" in 2005, he's mostly been seen in small supporting roles in movies like "Factory Girl," "The Road," "Animal Kingdom," "The King's Speech," and "The Hurt Locker" (weirdly, this is the second time this has come up today on IFC.com). So I'm hoping he gets to take the lead in "Don't Be Afraid of the Dark" even if he's still got to contend with ghosts and spirits and cute child actors at the same time.
The film is based on a classic 1973 TV movie, "the scariest TV production ever made" according to the remake's writer and producer, Guillermo del Toro. Pearce plays the father of a little girl who starts to hear noises and voices coming from the basement of her family's new old home; Katie Holmes also stars as Pearce's new girlfriend. We already had one really good haunted house movie in 2011. I'm hoping for a second. Here's the trailer:
Y'know I used to hear voices coming from the walls of my house saying stuff like "We want to play with you!" Just my neighbors. We have really thin walls and very friendly neighbors. "Don't Be Afraid of the Dark" opens on August 26.
Are you psyched for "Don't Be Afraid of the Dark?" Tell us in the comments below or on Twitter or Facebook!