"Deus Ex: Human Revolution" Getting Fancy Shmancy Art Gallery Show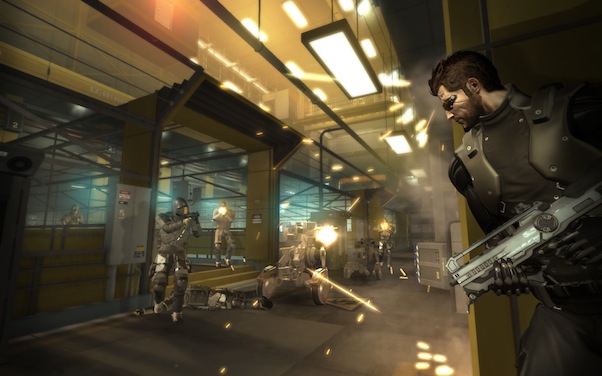 Posted by Evan Narcisse on
Due out in two months, "Deus Ex: Human Revolution" takes place in a future where biomechanical enhancements divide people into pro- and anti-bionic factions. The game's lead character–private security agent Adam Jensen–becomes a cyborg against his will when anti-enhancement activists attack Sarif Industries, the cybernetic research company he works for. Jensen ventures into the world of 2047 armed with new abilities to help him unravel the conspiracy that's turning ordinary and enhanced humans against each other. Players will navigate moral gray areas and engage in all-out combat, spending a lot of time in both the halls of power and on the gritty streets of cities like Shanghai and Detroit.
Previews have shown off the art style of "DX:HR" and you'll notice a lot of cravats, scarves and puffy sleeves on the characters in the world, as well as an old-world architectural sensibility folded into the overbuilt, future sprawl of the environments. That's because the Eidos Montreal team that's making the game claims that the Italian Renaissance influence their work on "Human Revolution," since it too was a pivotal time of creative ferment that left a mark on human history.
It's fitting then that publisher Square Enix will be sponsoring an art exhibition in July that brings together luminaries from the world of street art, photography and visual design. Here's the rundown of the participants from the press release:
• 3rassiere – comprised of Justin Metros and Alex Tarrant who is the editor of New Media/Technology at JUXTAPOZ magazine, as well as a designer at Upper Playground and 900bats. They live and work in San Francisco.
• Estevan Oriol – is a veteran Los Angeles-based photographer whose work focuses on LA culture and lifestyles. His work his currently on display at the "Art in the Streets" exhibition at the MOCA.
• Eyeone – is a Los Angeles-based artist with a body of work ranging from street art to graphic design. His work is currently on display at Pasadena Museum of California Art.
• Jeremy Fish – hails from San Francisco, and acts as both a fine artist–exhibiting his work in domestic and international galleries– and a commercial illustrator and designer, creating murals, vinyl toys, apparel, and more.
• Jorge Alderete – is a Mexico-based artist known for his explosive international collection of contemporary and custom art.
• N8 Van Dyke – is an artist and illustrator whose work spans a wide variety of mediums, from pencil and ink to acrylic and oil pants. His uniquely detailed work has been featured in galleries around the world.
• Rico Deniro – exhibited his first solo show earlier this year at the FIFTY24SF Gallery in San Francisco. His art direction resulted in a collection of pop culture icons, hand-carved into mask form, by rural Mexican villagers who had no idea who these icons were.
• Robert Abeyta, Jr. – having served as art director for brands like Stussy and Nike, Rob Abeyta, Jr. is renowned for his many skills in the fields of graphic design, painting, street art, and founder of the creative applications group, DualForces.
• Sam Flores- is a graphic designer, street artist, and fine artist in San Francisco, California. His work has been displayed in many galleries and art publications.
Each artist will create one poster style image, inspired by either the pro-augmentation or anti-augmentation factions as seen in DEUS EX: HUMAN REVOLUTION. Patrick Martinez, art director for SA Studios, will lend his talents to transforming the overall gallery space to create an experience that aptly depicts what's in the game. Many of the artists participating in the show are expected to attend the exhibition's opening.
All the artists will be contributing original work that comments on the future "Deus Ex: Human Evolution." In the game, humanity either sees itself as augmented or compromised by its increasing dependence on technology and it's a great well of ideas for creators like these to draw from. The exhibit will show at New York City's Wooster Street Social Club, with opening night set for July 28th. Proceeds from the artwork sales will be going to charities that support arts education. For all the kinds of promotion video games come up with, this one in particular looks to be unique and possibly even eye-opening. Kudos to Square Enix for augmenting their hype machine with some humanity on this one.