David Lynch Plans "Mulholland Drive"-Themed Nightclub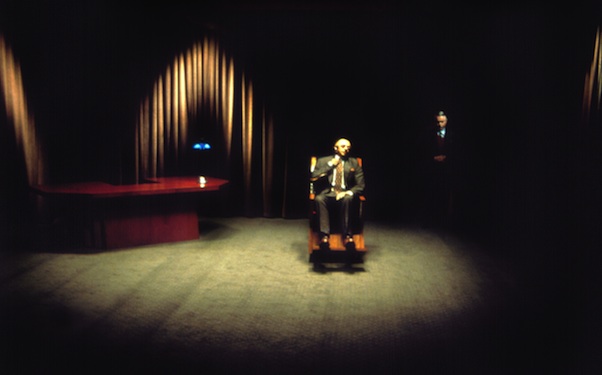 Posted by Matt Singer on
Well, looks like my wife's finally going to get that trip to Paris she's always begging for. That's because Hint reports that David Lynch is opening a nightclub in the French capital based on his amazing 2001 film "Mulholland Drive." The details:
"Launching in September, Silencio — also the name of the club in 'Mulholland Drive' — will house a movie theater, concert hall, art gallery, restaurant and, of course, a bar. Even its hours, 6 pm – 6 am, are eccentric enough for a Lynch-worthy evening."
Hint also has some pictures of the club's furniture (that the club even has furniture at all comes as something of a surprise to me; I kind of expected people'd sit on working tractors or something). They've also got the upcoming club's address: 142 rue Montmartre, if you're in the area and want to scope it out (send pictures!). No word on the menu for the restaurant at this point, but some David Lynch-themed food items would be terrific. "I Am Not An Animal!" Veggie Tacos or Pabst Blue Ribbon Beer Can Chicken feel like no brainers.
If you haven't seen "Mulholland Drive" in a few years, and don't remember Club Silencio, here's a clip:
Oh my God, I want to see the No Hay Banda floor show so badly. Contact Music adds that Lynch himself is designing the interior. I would kindly asks that he includes a gift shop that sells mysterious blue boxes and matching keys and non-functional (or functional, why not) huffing equipment like Dennis Hopper's rig in "Blue Velvet."
If I can throw some cold water on all the excitement for just one second, let me say this: the nightclubs, music videos, concert films, art projects, music, and delicious coffee, they're all great. But it's been five years since "Inland Empire." I want, nay, I need a new David Lynch movie. And then I need to watch it in the theater at Club Silencio.
Would you travel to Paris just to go to Club Silencio? Tell us in the comments below or on Facebook and Twitter!
[H/T The Criterion Collection]