Ron Howard's "Dark Tower" to encompass practically every entertainment medium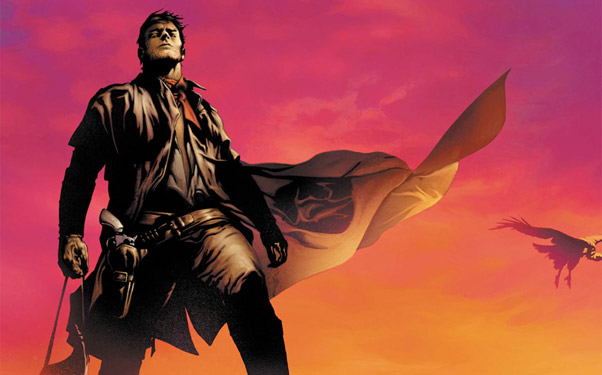 Posted by IFC on
Stephen King's "Dark Tower" series is already massive, containing seven novels, an eighth on the way for 2012, a two-volume concordance by King's collaborator Robin Furth, a King-endorsed book of back-story and analysis, five individual Marvel Comics series and even an online game called "Discordia." So it's fitting that Ron Howard's adaptation of the series will not only include a trilogy of films, but two television series and possibly even additional games.
In an expansive interview with Deadline Hollywood, Howard and Imagine Entertainment partner Brian Grazer shed a considerable amount of light onto the absolutely humongous project that is "Dark Tower," describing the project as "a way to use all the mediums at our disposal to try and fulfill what's possible."
Instead of forcing everything into a series of feature films, Howard looks to utilize the strengths of both the silver screen and television, saying, "We can use the intimacy of television when that's appropriate, and the scope and scale of the big screen with the bigger fantasy ideas."
While "Dark Tower" clearly has influences in expansive fantasy literature like "The Lord of the Rings," what Howard has planned would dwarf even that series' epic film adaptation. While there have been small screen spin-offs of films, big screen spin-offs of television series and video game versions of both in the past, "Dark Tower" would be something much bigger, more complicated, and likely more rewarding as all of the interlocking pieces are conceived of as a whole.
Howard also went into the possibilities of additional "Dark Tower" games, adding, "We discovered elements that would probably never have a home either on the big screen or on TV, but would make fantastic narrative gaming opportunities that won't rehash the movies or TV, but have its own material born out of the books and graphic novels." So your dream of "Dark Tower" death matches may be just a couple steps closer to reality.
The development process of "Dark Tower" hasn't been without its hiccups though, as even though writer Akiva Goldsman originally wrote the film's script "to be sensitive to cost," it apparently wasn't enough for Universal, as the studio asked for an even more budget-friendly rewrite.
In the interview, Howard also touches on the possibility of prodigiously handsome Spanish actor Javier Bardem taking on the series' lead role as the Gunslinger, Roland Deschain. The once and future Richie Cunningham admitted that nothing is set in stone yet, but that Bardem is "fascinated by the character and has great instincts for Roland."
Deadline's talk with Howard and Grazer also goes into the controversy surrounding "The Dilemma," working with Clint Eastwood, the upcoming "Cowboys & Aliens", as well as the two's thoughts on a slew of their previous work. The interview is a must-read for even casual film fans, and definitely worth devoting some time to on a Tuesday afternoon.
Are you excited to see Ron Howard's take on "Dark Tower"? Let us know below or on Twitter or Facebook.