Coming Friday: "Commercial Kings" and "Young Broke & Beautiful"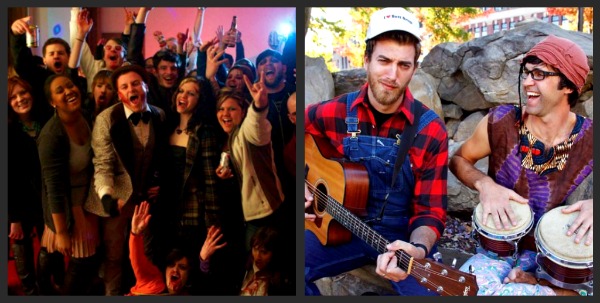 Posted by Melissa Locker on
Here at IFC HQ, we've been humming Rebecca Black's "Friday" all week long, because we are so excited for it to be Friday already. Not just because we're working for the weekend, but because this Friday, we are launching "Rhett & Link: Commercial Kings" and "Young Broke & Beautiful." That's right, the long-awaited and highly-anticipated premieres of our new shows are happening this Friday at 10 p.m. ET
"Rhett & Link: Commercial Kings" chronicles the quest of life-long best friends Rhett McLaughlin and Link Neal as they travel the country making local commercials for local businesses. This docu-comedy is based on the successful web series "I Love Local Commercials" and features Rhett & Link helping local businesses ("Butt Drugs" anyone?) achieve their goals by creating eye-catching local commercials featuring things like, Trashicorns.
Hosted by writer/blogger Stuart Schuffman, aka Broke-Ass Stuart, "Young Broke & Beautiful." is a travel show for anyone who likes to venture off the beaten track. Stuart travels the country to find the best ways to have lots of fun with little money in the most hidden corners of American cities. These hidden gems aren't in any guidebook, but they will be on IFC.
Watch these clips from the shows and you'll be singing "Friday" too.
Here's a sneak peek at "Young, Broke, & Beautiful" when our host Brokeass Stuart takes us on a guided tour of New Orleans:
And here is a commercial made just for cats by Rhett and Link, so gather your friendly felines for a viewing. Okay, you can watch too:
"Rhett & Link: Commercial Kings" and "Young, Broke & Beautiful" premiere on IFC on Friday at 10 p.m. ET.