Coldplay's "Every Teardrop is a Waterfall": Give Us Katy Perry, Please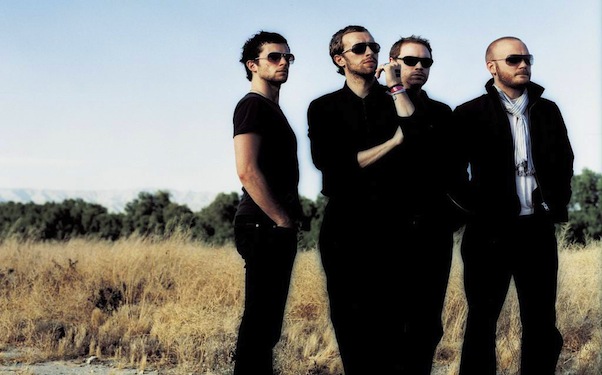 Posted by Grayson Currin on
Coldplay's timing, at least, is impeccable: This morning, the band released "Every Teardrop is a Waterfall," the first single from its as-yet untitled new album with Brian Eno again behind the boards. It has the feel of an instant summer hit, with a gigantic sound saturated by organ and lifted by a heavy acoustic guitar strum, a circular electric riff that shoots for the stars, and a four-on-the-floor backbeat that begs for club remixes. The song's barely been out for a few hours, and someone somewhere is probably already riding around with their convertible's top down, singing the title along with Chris Martin. Fair warning: This hook will probably be unavoidable for the next few months. The production is that big, that certain, that assured. It kind of can't miss.
But when it comes to songwriting, Mr. Martin's latest folly is pseudo-inspirational claptrap. "This is, one can assume, a deeply personal song that Martin wrote for … everybody in the entire world," James Montgomery at MTV notes, saying that these words are personal, the song universal. But if these lyrics–an unfocused swirl of meaningless metaphors about being the space between trapezes, being a period and not a comma, being a physiological metronome for your favorite song–are personal, Martin must be sort of crazy. He's hurling spitballs of empty inspiration for rebellion and pride and soaring, none of them connected, none of them actually saying much at all.
As simple and pedantic as Katy Perry's "Firework" is, it achieved the same goal–everything will be OK, just keep going–with a much more communicative approach. Like Martin, she sang about being buried, but Perry made that image make sense within the song's framework. Martin, however, jumps from burial to commas to, at the end, speculating that "Every siren is a symphony." When you're probably the biggest band in the world and the season of singles is fast approaching, you'd better have something ready for your allegiant iTunes fans. And "Teardrop" will indeed probably make it through the summer. But by the time most people sing "My pulses start cathedrals in my heart" for the 67th time, maybe they'll realize that this is a song about nothing–over the long run, a hit for no one.
Are we missing something? Is this actually the best bit of lyricism since "Friday"?