Exclusive Video Premiere: Cian Nugent's Joyous "Sixes & Sevens"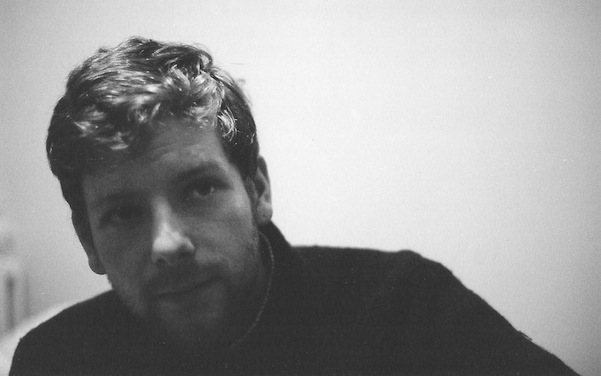 Posted by Grayson Currin on
Doubles, the first LP by Irish guitarist Cian Nugent, is a major proclamation of new young talent. As ambitious as it is evolved, Doubles is a 45-minute album comprised of only two tracks–the patient, practiced guitar-and-electronics meditation "Peaks & Troughs" and the longer "Sixes & Sevens," a brilliant movement that builds quickly from start-and-stop picking and percussion to glorious full-band redemption.
"Sixes & Sevens" actually works as a bit of a seesaw and a bit of a maze; it moves between exclamatory bursts and ruminative passages every few minutes, occasionally balancing the two in brief, perfect moments. Nugent actually excised three of the songs more bustling minutes for a new video by director Dylan Phillips. Here, the maze metaphor works, as Nugent's springy composition scores a short and speeding tour along the threshold between a city's natural and industrial spaces.
We spoke with Nugent about "Sixes & Sevens" and guitarists via e-mail.
In making this video, how did you decide which bit of "Sixes & Sevens" you wanted to use? Was it a decision made in collaboration with the director?
Well, I wanted a part that had everyone who played on the album, and there are only really two sections where this is the case. I felt that both sections stood up on their own pretty well–worked outside of the piece as well as in it. I put both of them to Dylan [Phillips], the director, and he went for this one. I'd still like the make a video for the other one, too.
It's funny to think about someone who hasn't heard the full song yet hearing this and then leaping into it, expecting 24 minutes that sound like these three. Was that bait and switch part of the appeal of using that bit to you, or did that one section simply seem like a good one?
There probably is an element of deception to putting forward this part, but at the same time, I'm not sure if any section would give a clear and honest take on the whole. I might as well accept this as an act of deception. Perhaps other parts take a little while to get used to, and I felt like this part was probably the most immediate. When browsing through the cybernet, I know that my attention can be minuscule. If something doesn't interest me, I just move on.
Oftentimes, musicians that make such long-form pieces insist that they are wholes that aren't able to be broken into units. Obviously, this excerpt is some attempt to form a smaller unit. How do you feel about that idea–of a long song being one piece, or an assembly of pieces?
When I was originally writing this piece, this was the first part I had. To my ear, it didn't feel like a short piece; it seemed to have space for development and contrast–that and I think I also wanted to write a long piece! It was a pretty natural process for me to write this as a long piece and one done out of what felt like necessity. I wanted a piece that had a range of different moods and approaches but also felt like a whole. To me, it's quite fun that this excerpt can mean one thing in context and another out of it. I don't feel too precious about the piece being a whole, but at the same time, I do think of it as such. I understand that there's no such thing as correct interpretation, so why hope for it?
Do you think such long pieces of music suffer our shortened attention spans? Did you ever consider breaking this album into shorter parts that are still connected musically, but just include track breaks?
Some friends of mine did suggest the idea of breaking the piece into smaller tracks for the LP, but to me, it felt kind of counter-intuitive to spend so long making a piece work as a whole and then go and break it up. It just didn't sit right with me.
I think certainly it is difficult to lay one's focus to a long piece of music, but I think rather than the music suffering it is us who does. I know that when I make myself listen to a long piece of music, I'm often rewarded much more than with a short song, as much as I love those, too. There's a time for all things. I really enjoy the sense of achievement I get from overcoming my impatience and paying attention to a piece of work that takes some time, be it a film or music or whatever. I think writing and constructing these long pieces was an attempt to exercise some control over my wavering patience, to put some discipline on it, rather than just indulge it, as masochistic as that may sound.
When I was on tour with Micah Blue Smaldone recently, we talked about this and he put it well: You got to fight tooth and nail for your patience in a world that's doing its best to not let you have it.
Is there a narrative to the entirety of "Sixes & Sevens" for you? Or an idea that runs throughout?
I think there is. I don't think it's a didactic narrative, but an intuitive one. There is an element of story and journey to it as far as I see it, but that's just my perception so I suppose it's for each listener to decide.
Lately, it seems like guitarists have taken many more risks in folding playing and picking into something larger, something that explores more space. How do you see yourself in that continuum? Who are the heroes you feel closest to, most distant from?
I think people have always been exploring long-form music; maybe it's happening more now, though. I'm not sure. There are definitely people I feel a kinship with or admiration for in various areas. As far as guitarists, I like Matt Baldwin's album Paths of Ignition a lot. Everything I've heard by Bill Orcutt, and Chris Forsyth's new one is particularly hot. All of his albums are great. I really like a musician from Portugal, David Maranha's music for organ. My friend Chris Hladowski's take on long-neck lutes from across the world is always inspiring. Also, the director of this video, Dylan Phillips, is possibly my favorite songwriter at the moment. The songs he writes for The Dinah Brand really floor me.
I try not to indulge hero worship too much, but of course, I love a bit of it, too. I think by nature of their hero stature, though, we feel distant from them, especially because most of mine are always older music. My biggest hero indulgences recently have probably been Neil Young, Alex Chilton and Todd Rundgren–probably at a safe distance.
When did you first start playing guitar? And when did you first start treating guitar as an entrée into these bigger compositions?
I guess I started playing guitar around seven or eight years ago. I started out playing bass and then slowly started messing around with a guitar that was at home. I was always a little fearful of playing guitar because it's such a ubiquitous instrument, and there are so many people who are good at playing it. For a long time (and, to a certain extent, still), I didn't think of myself as a guitarist. Guitarist culture is pretty horrible. I started out writing pretty short guitar songs about four years ago, mainly because I wasn't really able to play for too long! But then I got more and more interested in longer-form music and progressively got more able to do it. I suppose these are my first two compositions of this length.